Every day this month I am looking back on the 10 years since I started this blog in June, 2008. Part 3 is this one — Mrs Lithops' Difficult Delivery — from May 2010, where a very cute desert plant is not having an easy time producing a flower.  
The last time 

I posted a photo of my cute little 
Lithops
 plant, 
Lanie
 made the cheeky comment that she wanted to "get a black marker pen and draw some little eyes on it"
.

Little did I realize that Mrs Lithops was with child at the very moment Lanie had her Texta dreams, but here's the evidence. Here she is, Mrs Lithops, with her little yellow baby – well almost, but not quite.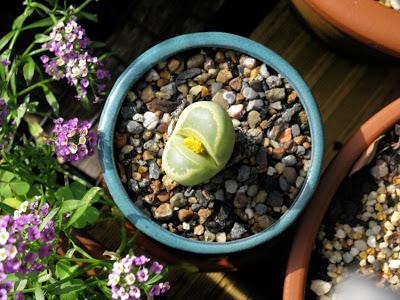 Now, some of you might be asking why I have rushed out to post this photo of an almost-there flower, instead of waiting to show the world the sunny baby, named 'Daisy', in all its cheerful, innocent glory. Excellent question...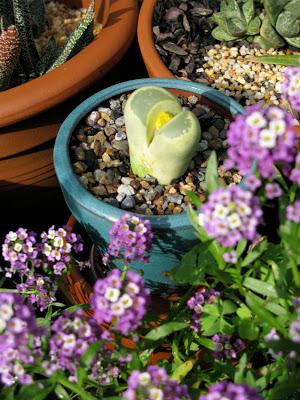 Simple answer. Pammy took these photos on the last sunny day we had here, about five days ago. Since then we've had nothing but cloud and rain, and Mrs Lithops and Daisy aren't in the mood for flowering, it seems. In fact it looks a bit like Daisy is stuck there. No, I am not going to get out the forceps, or even the tweezers. Daisy will come out when she feels like it.
Daisy's little umbilical stalk is visible if you get very close up, and so I guess the flower pops up and out on its stalk when the sun shines, but so far this is as good as it gets. The only thing I am doing at the moment is bringing Mrs Lithops under cover at night and also during the day when it rains, to keep her dryish. This woman comes from a desert climate, and Sydney in the throes of a late autumn drenching probably doesn't remind her much of her home in an African desert. 
I'll just have to be patient, although I hope the Lithopses aren't the kind of plant to flower every 15 years or anything frustrating like that. I am sure that as soon as the sunshine returns, Daisy will come out to play and the birds will sing, etc.
But as it's too soggy for much gardening right now, Mrs Lithops' difficult delivery is definitely the central drama here in Amateur Land. Come on Mrs Lithops, push!