Every day this month I am looking back on the 10 years since I started this blog in June, 2008. Part 22 is this one — I See Small People — from August 2008, in which I reveal our little gnome collection. Oh, OK then, our big gnome collection ...
As well as collecting eminently transportable, and collectable, succulents while out on the road on holidays, my wife, Pam, and I have acquired another garden collection that's altogether more disreputable. Gnomes. Little people.
We're music lovers, so originally our idea was to put together a band: guitar, bass, drums, fiddle, accordion and maybe flute, sax or whatever else musical and gnomey that came our way. Well, those parameters merely provided a basis to start shopping, and we soon got off the rails on the very first trip. The guiding factors for us were "no boring gnomes" and, with only a few exceptions, "only solid concrete gnomes, please". This is not all of them by any means, but for starters, here's a selection of the little people in our backyard.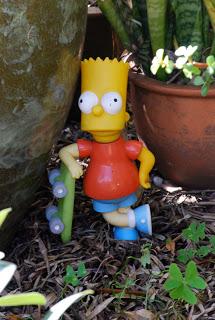 If the rules say "only solid concrete gnomes" then it's only right to start off with a plastic one. A plastic shampoo bottle, to be exact, with the shampers still intact. I saw him in a local discount store and all I could see was a great little gnome. He's aged well after six years outside (I keep him out of the sun, of course).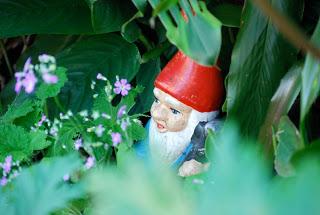 This is how most of the backyard gnomes are placed, hiding amongst greenery somewhere. This guy is the bass player in the band. When young kids come to visit the backyard we just tell them to go find the gnomes, and count them. They like the hidden ones, and of course they all want to take Bart Simpson home.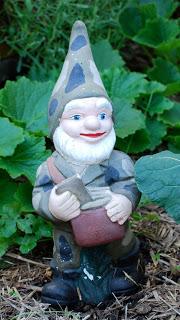 Hand-painting plain concrete gnomes is a pleasant rainy-day job if there's football on the radio. This guy, who is billed as an anti-terrorist commando gnome, handles security in the backyard. I think he was meant to be a postman gnome, with his cute little satchel, but with some army camouflage gear his postie's bag is now his demo charge unit. When painting them, I do the easy stuff like the clothes, but Pam does the faces.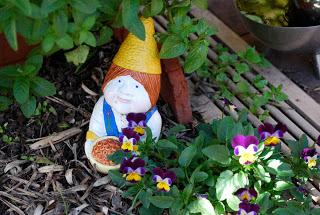 Almost all the gnomes here are male, as they are in most gardens, but this is Ingrid, one of our more recent acquisitions, who we found, already beautifully painted, in the NSW Blue Mountains last summer. She likes to bake pies, apparently.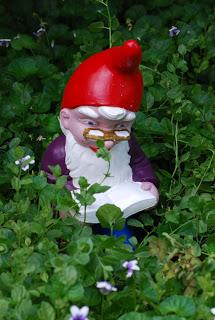 Not far from where Ingrid hangs out (under the mint pots), her boyfriend Mitchell, the local librarian, spends all his days reading gardening books in his little garden seat set amidst a field of native Australian violets.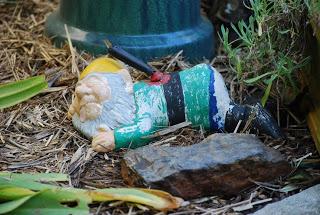 Unfortunately, even in the most peaceful gardens in the most beautiful cities in the sunniest Antipodean countries, crime continues to claim the innocent. I read once in the English 'Gardens Illustrated' magazine that these corpse gnomes are a specialty of the Channel Islands of Jersey and Guernsey, but I bought mine in Melbourne. The kids counting the gnomes usually reel in horror when they find this guy. "Hey mum, there's a dead one over here" or something like that usually announces their macabre little find.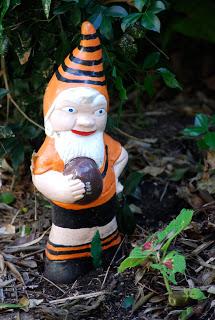 A very Australian tradition is the footy gnome. Up until recently we didn't have one, but then we came across an unpainted plain concrete fellow and so I gave him the colours of my local Rugby League team, the Balmain Tigers. Following the Tigers used to be a case of long suffering loyalty including back-to-back lost Grand Finals, but then the Tiges went out and surprised everyone by winning the 2005 Premiership, so that should do me for the remainder of my lifetime. I have the DVD.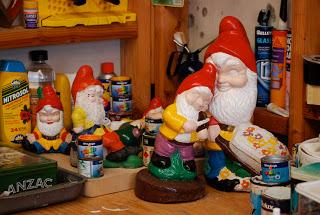 Earlier on I think I mentioned something about painting gnomes, rainy days and footy. That is a bit of an exaggeration, to be truthful. Here's the gnome painting workshop. It's looked exactly like this for at least the last 12 months. I don't rush gnome painting. Do it in bursts. One day here, and then another day next year. There's hardly any more hiding spots out in the garden for them anyway. And when I finish the clothes, etc, Pam will move in to do the faces (and the rest of the flowers on wheelbarrow boy).
And so with this post completed, I feel like I know what it's like to have 'come out'! I collect gnomes, not a lot of them, but quite a few. Think what you will, I don't care.