Every day this month I am looking back on the 10 years since I started this blog in June, 2018. Part 2 is this one — Desert Island Plants — from January 2009, where I dream up a garden filled with fantasy plants, most of which would never thrive here.  
After dropping in to visit Patient Gardener's Blog I came across a lovely little activity started by Shirl at Shirl's Garden Watch, picking three 'desert island plants' to take with you. Rules are: no food plants, don't worry about climate, it's perfect. So here are my choices, with just a tiny bit of rule-bending in the middle there – as well as the shameful use of images sourced at Google images to illustrate the selections.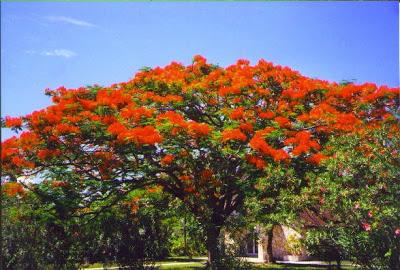 Desert island? I'll need shade, so I'll make it a poinciana, Delonix regia, please. These are all over tropical Australia, but they struggle along in temperate Sydney and never look so nice as they do in up north in Brisbane, Broome and Darwin. I want one!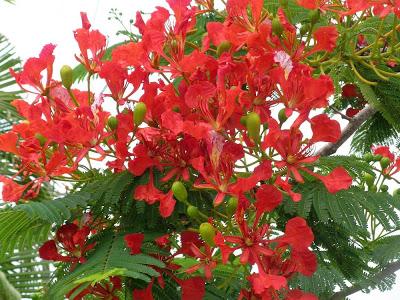 In addition to the stunning flowers, the feathery foliage casts gorgeous shade, and the tree itself spreads very wide. You could easily fit a feasting table underneath one of these.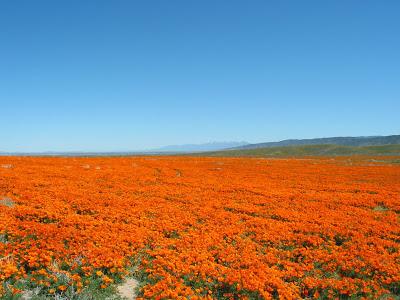 Here's the "rule-bending" bit. Can I nominate poppies in general? For starters, on the hilltops of my desert island I'd love to see fields of Californian poppies. I love the dense, clear orange color of these poppies, one of my favorite oranges.

And in a freakishly cool part of the island I'd finally be able to enjoy the blue of the Himalayan poppy.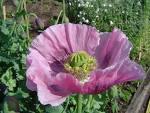 And while I'd have no interest in harvesting an opium poppy for its toxic nectar, at least I could have the satisfaction of growing something both illegal and pretty.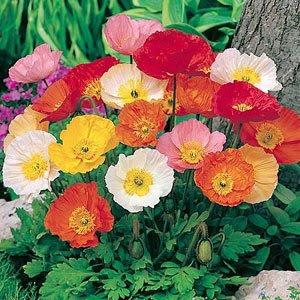 However, down closer to the beach shack, I'd have lots and lots and lots of Iceland poppies to pop into vases to bring inside. All colours please, and did I mention I wanted lots? And PS: if the judges say "sorry, no rule-bending" I'll just go for lots and lots of Icelands, thanks.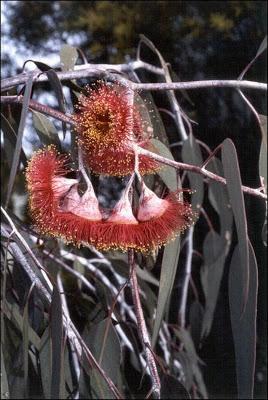 Finally, I'd like something to remind me of home here in Australia, so I've chosen our most unusual yet beautiful gum tree, the gungurru, formally known as Eucalyptus caesia but most well known these days by the name it's sold under, 'Silver Princess'. It's a weeping gum tree, a slender thing that looks undernourished when there's only one of them to behold. I'd need a good stand of them somewhere to do the fantasy justice. The 'Silver Princess' name comes from the white coating on its branches and gumnuts.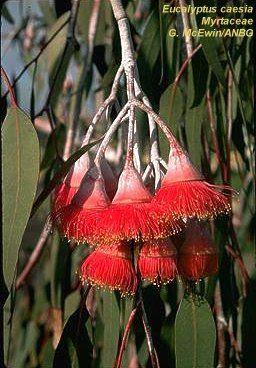 Its flowers are very big, not the biggest of all the gum flowers, but much larger than average.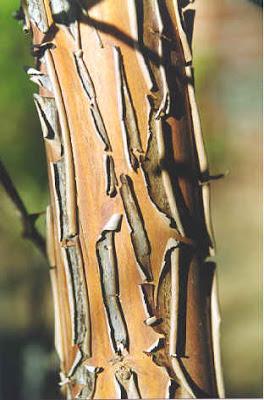 Its bark is sometimes underrated, as is the bark of many gums, but I'll be looking forward to that show on my island, too.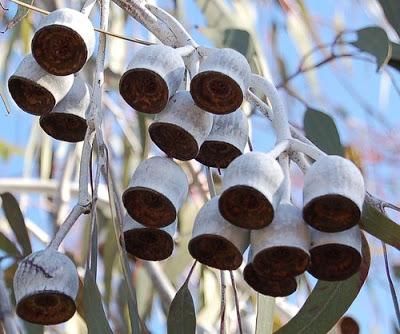 After the flower show ends the gumnuts have their turn at stardom.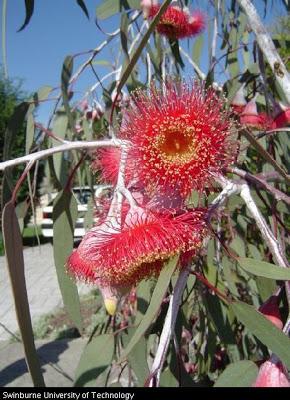 However, the best way to fall in love with this tree is to see it in bloom, with its weeping habit and the ghostly white pallor to its trunk. There are a few of these trees scattered here and there in Sydney, but none are healthy. This tree belongs in a much less humid climate than Sydney's. It's a native of Western Australia, which has cool, wet winters and hot, dry summers. I guess if I can dial up the climate to keep a Himalayan poppy happy, it should be easy enough to set the dial for one section of the island to 'Perth, Western Australia' too.
(Again, I have left any identifying tags in place on photos to credit a few, but all pix have been downloaded off Google images, hence the patchy quality).