I'm currently in the process of painting our front room....I've been talking about doing so for over 3 years now.  I'm mildly in love with the main color choice, sort of a gray, medium blue (unexpectedly purple) and am terribly unhappy with the "accent wall" color that I thought for sure was a white/gray color that turned out to be ice blue.  I'm far from done with the painting but needed to take a break.  With Thanksgiving just around the corner I figured I'd better get this out as soon as possible!!  
This time in the words of Jaime (the little sister) Yay! 
***Hi my name is Jaime and the last few years I've had the honor of holding Thanksgiving in our home.  Grandma has passed the Holiday Hostess torch and I've gladly accepted.  I'd love to share how we decorated for last year's Thanksgiving bash.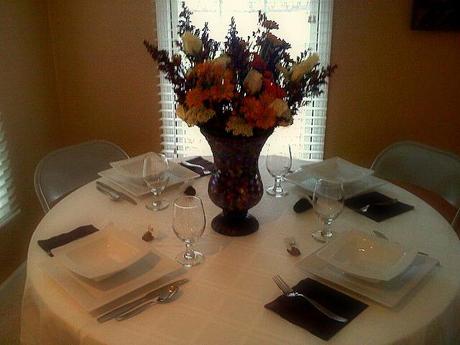 I went to the backyard for most of my inspiration and collected all things from nature to decorate!  I carefully picked leaves to use as "confetti" and scattered them on the table and mantel.  I found thing such as pine cones, acorns, pods, and old fall colored potpourri that had lost its scent over the years.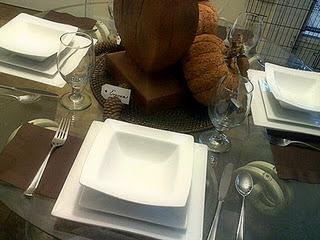 I picked sticks off of the ground and made arrangements for the centerpiece which was placed on the main dining table.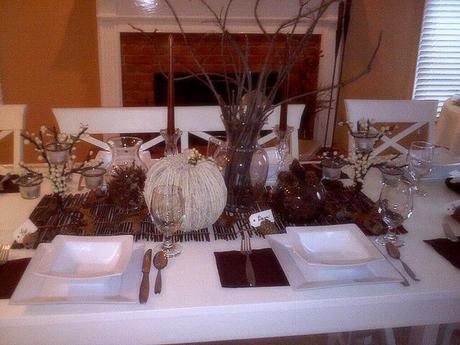 I picked up 4 bamboo place mats from Pier 1 imports (on sale of course!) and used them as a table runner (reason for purchasing place mats instead of a runner: can be used as place mats and pieced together for a table runner!)  
I picked up all of the glass jars at thrift stores through out the year and even used some old vases that had been saved from flowers given to me from my loving Husband!  We are all about recycling and reusing!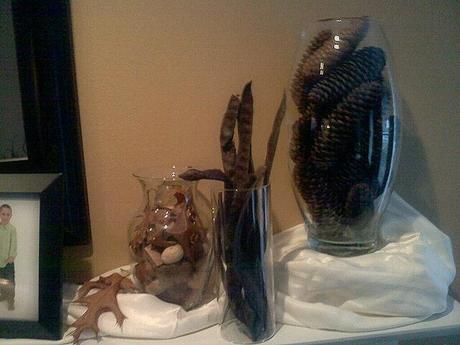 To finish off the look, large pine cones and tags were used to create place cards adding to the "natural" and "recycled" theme.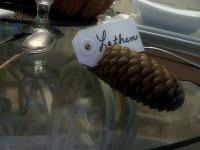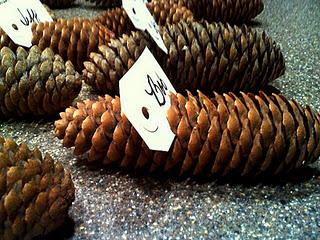 Can't wait to share this year's Thanksgiving with everyone :)