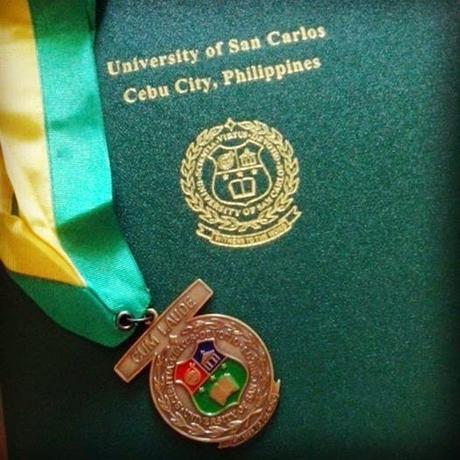 2015 is the year of the sheep, my year, the year I was also set to graduate… It's just begun to sink in that I've finally finished my course, and though I have yet to pass the board exam this August to be a licensed Nutritionist, I am beyond grateful to know that I have already accomplished my educational plans since high school - to go to culinary school and earn a degree in Nutrition and Dietetics. It wasn't a smooth ride - my life had several interesting twists and turns - but I know this was all God's plan and this is exactly where and who He wants me to be.
The original plan since high school was to study culinary and earn a degree in Nutrition and Dietetics because, well, I wanted to be a chef and nutritionist. After culinary school and having worked for our family business that closed in mid-2011, I found myself raring to just pursue my culinary career and forget about studying Nutrition because I was perfectly happy with the kitchen life. However, I was encouraged by a friend to go to college because other than the things I would learn from the actual classes, the experience was not to be missed. I was convinced, also bearing in mind that my mom belittles me because I was not a degree holder. Of course, there was a bit of insecurity knowing that I would be one of the eldest in class, but big hopes for the future helped brush it aside. I held on to the fact that I was hardworking and God has always been faithful in my life.
True enough, the experience was priceless. I have learned more about life and myself than I could probably have learned elsewhere. I would strongly recommend youths to go to college because, beyond the books and homeworks, it can be a crucial time for self-discovery and self-development.
I wasn't really the sky-high achiever when it came to academics (the only time I graduated with honors was in Nursery 2, placing 2ndin class). In fact, classmates would tease me that I'm slow. So, I never really considered myself to be really smart either. Things took an unexpected turn when I happened to make it to the Dean's List in Second Year. I was motivated to do my best because I realized that this was probably my only chance to achieve something academically, give back to my parents, and maybe prove something to people who doubted me (even if I didn't need to).
Breaking the news to my high school best friend (who is by the way, my total opposite, being the ultimate achiever), I was encouraged even more because he offered to give me a free trip to Singapore (where he is currently based) if I graduated Cum Laude. So, I strived and gave my all despite eventually having a business in my third year. I was relatively doing well until the final semester where I had to go on three internships – hospital (clinical), hotel (foodservice), and community (public health).
Internship rocked my world; and no, not the good kind. The hospital phase was probably the lowest point of my life. I struggled with lack of sleep (having only a maximum of 2 hours sleep most nights), pressure from endless requirements, and was depressed because I felt very dumb and useless.  At this point, I was facing the dismal fact that I might not make it to the honors list. Nonetheless, I didn't give up. I decided that whether I make it or not, I was still going to do my best.
And to my surprise, I made it! Not alone, of course. Everything I've been through just shows that God was always by my side, catching me whenever I fell and gave me pats on the back when I needed it. He did this through several people He brought in my life.
So, now that I'm finally here, having just overcome one of the several mountains I have yet to climb and conquer in my life, I want to take this opportunity to thank each and every person who have been part of my journey and made me who I am today…
THANK YOU….
God
, my loving heavenly Father, who never left me and steadfastly provided all the love, strength and wisdom that I needed. You have been there for me in my darkest, loneliest days as well as my victorious days. I know that without You, I am nothing. Everything I have is from You and everything I have accomplished belongs to you. I give back all the glory, honor, and praise to you, dear God! Thank you for all the miracles! You never cease to amaze. I will continue to give my best because You deserve my all. 
To my parents, who supported me financially and morally through all my aspirations. From those summer sports and dancing clinics when I was younger, to culinary school and now, my Nutrition degree. Although you may have had other plans for me, thank you for never saying "no" to my dreams for my career. I hope that someday I can be good enough for you, that whatever I aspire to do will make you both happy and fulfilled in life. I will work hard to give you both the retirement life you deserve. :)
Daddy
, thank you for all the times you brought to school the things I left at home and for always readily taking me to my 3 AM and 4 AM duty shifts in Chong Hua, and during my internships in Marco Polo and Radisson.
Mommy
, thank you for doing your best to provide for all my needs in college, especially for always paying for tuition on time and giving me the money to buy all the books I needed, for always being ready to lend me your precious accessories, clothes, bags and shoes for whatever occasion.
My favorite girl, my beloved sister,
Baby Jojo
, for always being my little miss sunshine and giving me hugs and kisses at the perfect times when I needed them most, and for waking me up sometimes. This achiever is also my inspiration to excel. :)
Uncle Ramon
and

Auntie Helen

, for all the support all the way from New York! Thank you for constantly keeping in touch and reminding me to achieve great things.
Also to my relatives from my mother's side, Auntie Baby, Auntie Lane, Uncle Tootsie, Auntie Jingkie, Uncle Jerry, Mama Aida, Ate Aije, Ate Angel. I know you all are always proud of me! Thank you!
To my mentors:
Ma'am Elvie
, thank you for accepting me in your department.
Mrs. Girlie Libato
, for being tirelessly supportive, always pushing us to do our best and for believing in us. I am so proud of you and truly blessed to have been your student.
Mrs. Ruvilyn Agujetas
, for being the most considerate, understanding and patient teacher! Thank you for your kindness!
Dr. Judith Borja
, it was a great great privilege to have been your student. You have sparked my interest in research and I hope you continue to share your extensive and valuable knowledge in this field! Your brilliance at your age inspires me to be sharp yet humble in all my endeavors.
Ms. Anya Martinez
, the most humble yet brilliant person I've ever met, you are such a blessing and inspiration! Thank you for your enthusiasm and positivity! Truly a privilege to have been your student, too! Thank you for not only being a teacher, but also for being a friend!
Mrs. Maricel Eguna – Judilla
, for being the best biochem teacher ever! You made it so fun and interesting! Thank you very much!
To
Luis
, the gentleman who never gave up on me, the man who soldiered through everything with me, my best friend, confidant, cheerleader, psychiatrist, lover, who believed in me and loved me even when I didn't love myself anymore. Thank you for giving the complete support that nobody else could give, especially the emotional, physical and moral support. You have a huge share in my victories because you were there through it all. Thank you for being the optimist when I was a pessimist, for making me believe in myself. I love you very much! You and your family are such a blessing! Thank you also to
Tito Jun
and
Tita Grace
for being so hospitable and supportive and for all the encouragement. Thank you Tita Grace for being my case study! Tito Jun, for retrieving my very, very important file from my USB! Thank you
Angelo
and
Paolo
for driving me home when I was dead tired! 
To my
classmates
, for putting up with me, for not making me feel older than you (haha), for reminding me about homeworks, for cheering me up or asking if I need help when you see I am sad! 100% ta sa board ha! I know we can do it! Congratulations to us!!! Study, pray, study, pray!
To all the friends who make time to listen to my problems and inspire me to not give up…
Richie
,
thank you for the genuine friendship all these years, for being one of my biggest supporters, for always being there to lend an ear and remind me that I should believe in myself because people like you believe in me. Thank you for sharing your wisdom and for cheering me up!
Jannana
! Ms. Beauty & Brains! Thank you for being my sweetest friend, that despite our different lives, you remained loyal and close. You have kept our friendship as if we weren't miles apart at all. Thank you for all the virtual hugs and words of encouragement! For always remembering me when you come home to Cebu and always making time to see me! You are one of my inspirations! I love you!
Muhmeh Kazoot
!
My partner-in-crime, my fellow "English paka" best friend (even if you don't admit it! hahaha), the golden girl, pastry queen, thank you for always being there for me, for always supporting me and "proud-ing" me! Hehehe! You'll always be my bestest bestest friend! I love you!
Joem
, my love, you know you love me! Hahaha! Thanks for always being there for me and for always making time to see me when you're here in Cebu! I love you!
Jamaica
dear! The smartest, most strong-willed and independent woman I know! You have always been an inspiration for me to dream big and achieve the reality of those dreams. Thank you for always being so supportive and for always being ready to listen when I need someone to talk to. I love you! 
Denise
,
thank you for the genuine friendship, for being the honest voice I needed to hear and for always keeping me grounded. Thank you for being my girlfriend and sister! I love you!
Justin
, for always making time to see me when you're here and for pushing me to be the best I can be. You are one of the very few people who truly know me. Thank you for keeping the friendship!
Micmic, Yen, Nikki
,
my tennistahz! Thanks for being the best bunch! We may all have different lives but it's all good because we will all be helping each other out when someone needs a dentist, an architect, a nutritionist, or just a tennis partner! You guys will always be my playmates. Thanks for bringing the fun in my life and for always being ready to listen, help, support and play! I love you guys!
My pigpack, Mustachio and Baktin! Thanks for being the best food buddies and always having my back when I'm craving or need some comfort food. I love you guys! 
The superstar couple, Rachel and Ejay! Thank you very much for all your support for Team Brownie and for the genuine friendship! It's great to have friends like you. :)
Chefs Gene
and

Gino Gonzalez

, my culinary inspiration and the most down-to-earth celebrities I've ever met! You are my culinary superheroes and you may not know it but you have helped feed my passion for food and cooking. Thank you for the genuine friendship! You both are forever embedded in my heart and I will never forget that inspiring note you wrote in one of those books you gave me. :) Shout out to

Chef Toto Erfe

and

Chef Lawrence Zafra

as well! "CHEF, WE'RE READY NA!"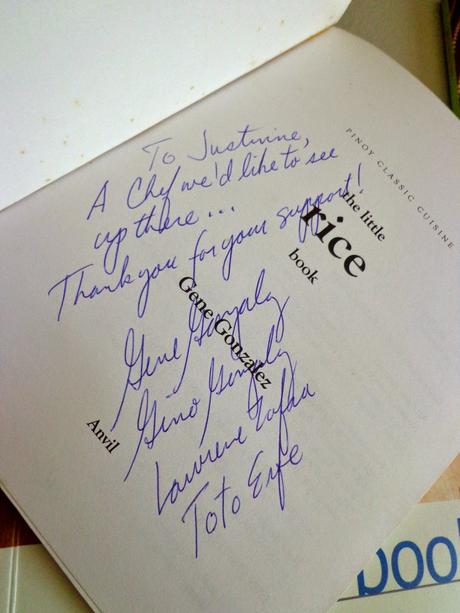 "To Justinne, A Chef we'd like to see up there..." <3
Sir Joel
, you may have been just a substitute teacher for our class once but you have become a friend. Thank you for always being so supportive and for the interest in making me your subject for your shoots. It was a great privilege to have been one of your subjects. I've never enjoyed photoshoots and felt so comfortable than with you,

Mrs. Susan

and Ms. Queenie! Thank you for the opportunities and fun times! :D
Ian Secong
of Azul, your efforts to lend me some of your gas stoves for our community internship culminating activity was a big gesture that showed your big heart! It was truly a big help. Thank you very much for the support! Belated happy birthday!
Hon. Andrew Bacusmo
 of Brgy. Cansojong, Talisay City! Thank you very much for being so accommodating and supportive of my group's activities in your barangay! More power and God bless! 
Truly, I am so blessed to have such smart, beautiful, trustworthy friends who are some of the most successful and inspiring yet down-to-earth people I know. Thank you very much for everything you have contributed to the person that I am today! I am inspired to be as successful yet grounded as you all are. :)
Thank you as well, to everyone else who has helped me in one way or another! I may not be able to mention everyone because I have quite a poor memory but know that I am grateful for whatever you have contributed in my life, whether it be criticism that has motivated me to be a better person, words of encouragement to refresh my soul, or may it be as simple as a smile that reminded me to be hopeful. I would not be who I am today if it were not for God and the people I have met in this life.
With this milestone in my life, I am inspired to continue to do my best for the glory of my loving Heavenly Father who has blessed me with good health, always providing abundantly beyond my needs, my talents and skills and people who love me and support me through thick and thin.
Cheers to the future! Please pray for me as I review for the board exam I'll be taking this August! I'll need all the prayers I can get! :D
Let me just leave you with these verses that remind me to let go and let God because I am such a worry worm. Worrying doesn't get you anywhere. :)
"Look at the birds of the air; they do not sow or reap or store away in barns, and yet your Heavenly Father feeds them. Are you not much more valuable than they? Who of you by worrying can add a single hour to his life?"
Matthew 6:26-27
"Therefore do not worry about tomorrow, for tomorrow will worry about itself. Each day has enough trouble of its own."
Matthew 6:34