Just a short post today, but to share with you two lovely things that were like bookends to not so wonderful a day.  The weather is fantastic at the moment, a wonderful Indian Summer.  I had every intention of leaving home early this morning to walk to work along the seafront.  It always adds about 10 minutes to the walk but on a lovely morning is well worth it.  Best laid plans and all that!  However, despite being a little later than planned I still took my camera with me, with the intention of going to the beach at lunchtime.
As I was crossing a road on the way to town, I saw an enormous cobweb.  It was the fact it was full of holes that caught my eye, a bit like an old lady's stocking.  So I whipped out the camera, leant on a garden wall and snapped away.  I am still not quite getting what I see with my eye, into what the camera sees, but it is all down to practice, and I am getting plenty of that.  You may see more spiders webs before October is out.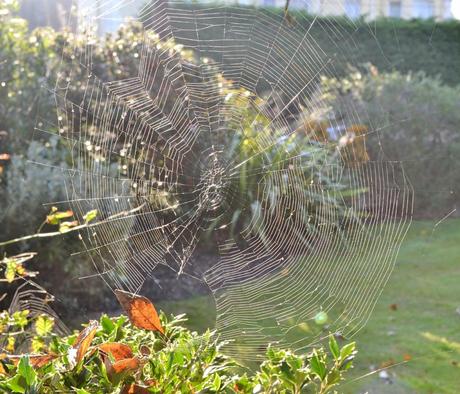 I didn't get to the beach at lunchtime, my day at work did not go too well – you know the sort of day, from beginning to end it just falls apart.
As I left the office, I stood on the steps and took in a great deep breath of fresh air…. the weekend starts here.  I looked over the road and, as with everything now, I saw another photo opportunity.   The buildings across from our office have just been repainted and the contrast with the sun on them and the incredible blue sky was just an opportunity too good to miss.
What a great start to the weekend, after such a difficult day, it puts everything back into perspective – life is wonderful with blue skies like this!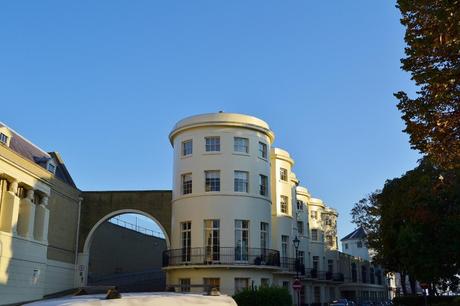 This is just as the sky was… no photo touching up at all.