Well, I don't have to turn over my V-card just yet.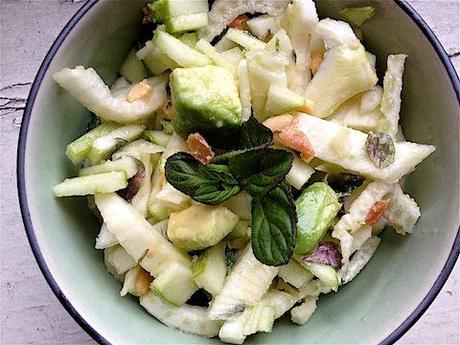 My avocado love has returned with a vengeance, so we can all sit back and continue to breathe normally. Whew! That was a close one.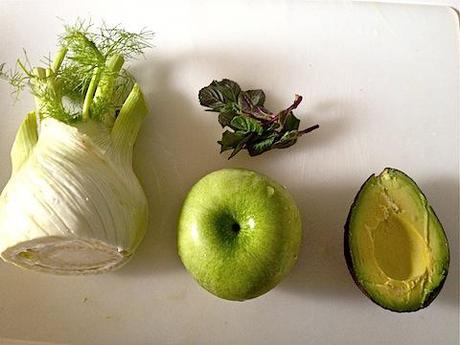 This slaw was inspired by the view from my window. I live in an apartment building right off one of New York City's large parks, a luxury which I have, in the past, taken for granted. Now, though, I find myself remarking over and over about just how, well, green everything is! It's almost as if I went to sleep and woke up to a new season. Which is kind of what happened.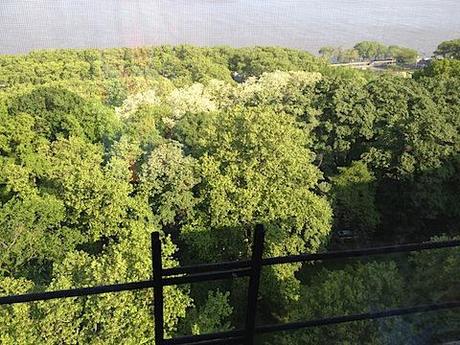 And so, I have a new dish for you to add to your Spring repertoire. It's light and flavorful, with just a little kick. In a single bite you'll find sweetness, a bit of tang, nutty crunch, and a hit of silk. It's satisfying without being heavy, and while festive, is simple enough for an easy weekday lunch.
THAI-STYLE GREEN SLAW WITH SPICED COCONUT-MINT DRESSING
Makes 2 large or 4 small servings
Green Slaw
1 bulb fennel, leaves trimmed, thinly sliced into 1-inch pieces
1 Granny Smith apple, grated or thinly sliced and chopped into 1/2-inch pieces
1/2 avocado, diced
Spiced Coconut- Mint Dressing
2 t roasted peanuts, crushed with the back of a knife
1 T fresh mint, coarsely chopped, plus a few sprigs for garnish
1 scallion, thinly sliced
1/4 c. rice wine vinegar
2 T coconut oil
1/2 t hot chili sesame oil
In a medium-sized bowl, gently mix fennel, apple and avocado together.
In a small bowl, whisk all dressing ingredients together. Pour over slaw and mix well. Garnish each portion with a mint sprig and serve chilled or at room temperature.
Enjoy in the park for a picnic lunch. If you can't get away, sit as close to a window as possible. Daydream.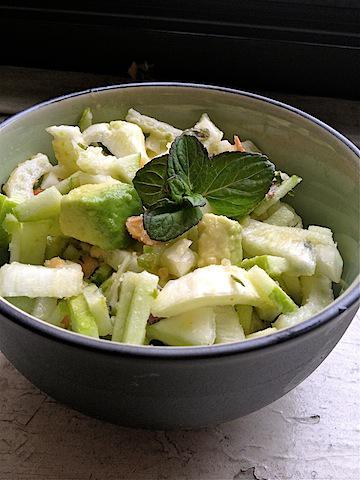 In other parks and wildlife news, I just saw Cameron Crowe's latest, We Bought A Zoo. It's a quiet film with subtle performances; I loved it. And, as is always true of Crowe's movies, the soundtrack was great.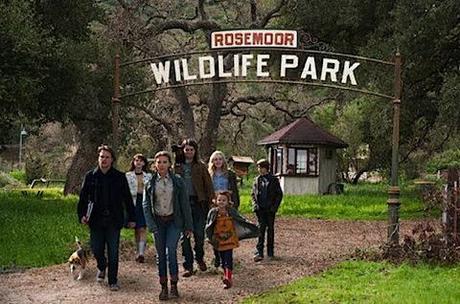 source
What does Spring look like out YOUR window?