At last! A new post

Life has been keeping me very busy. I do hope you've all been well, while I've been gone.
I thought I'd kick-start the blogging with a recipe that came highly recommended to me. When Irene was visiting her friend last week (the lovely Lisa), she was treated to a gorgeous Thai Red Chicken Curry. Irene sent me a pic of her dinner and I immediately demanded the recipe!
The recipe is adapted from Tesco Real Food, but I made two or three small changes to the quantities. You know me… I can't leave well alone!
I've only ever made one other curry for the blog (the delectable Murgh Masala); I really must make more. Any curry recommendations?
Here's how I did it: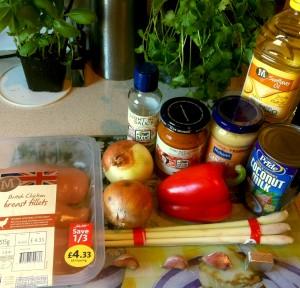 Ingredients (Serves 4)
1 x tbsp vegetable oil
500g x chicken breast, chopped into bite-sized chunks
2 x onions, diced
3 x garlic cloves, minced
1 x red pepper, diced
1 x stalk fresh lemongrass, bashed to within an inch of its life
2 x tbsp ginger (mines was from a jar)
1 x 400g can coconut milk
1 x chicken stock cube, dissolved in 150ml boiled water (I will change to 75ml next time, for a thicker sauce)
3 x tbsp Thai Red Curry Paste (I used Blue Dragon)
1 x tbsp light soy sauce (again, I used Blue Dragon)
4 x tbsp fresh coriander, chopped (this is twice the recommended amount, but I LOVE coriander)
Extra chopped coriander to garnish
It's a good idea to get everything prepared before you start cooking (you'll thank me for this later). Once you've bashed the lemongrass, take a good sniff. It's sooooooo lovely.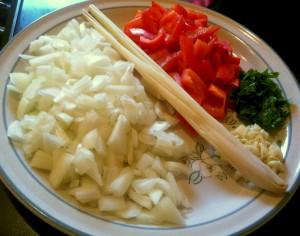 First, I browned the chicken for five minutes, then added the onion. I gently fried for a few minutes, then added the minced garlic (the garlic can burn easily, so I don't plonk it in at the same time as the onion).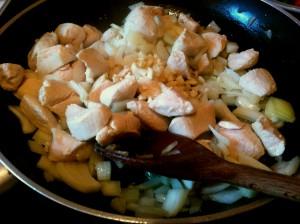 Next, I added the red pepper, lemon grass, ginger, coconut milk and Thai Red Curry Paste.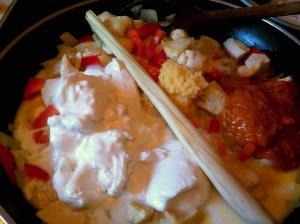 I then added the soy sauce and chicken stock, gave everything a good stir, then brought it to the boil. Once boiling, I reduced to a simmer for 25 mins. When there was 15 mins to go, I boiled some rice to go with it.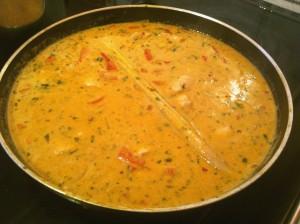 And it's ready! I removed the lemongrass and served with the rice. I sprinkled some fresh coriander over it, et voilà! A delicious Thai Red Chicken Curry for thee.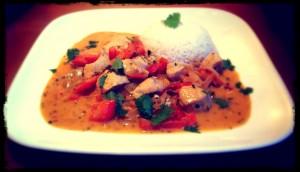 I found there was a lot of sauce left over, so will use only 75ml stock next time, instead of 150ml. In saying that, it didn't go to waste! I took it over to Mum's and she had it with some rice. She said it was "lovely and fresh".
This is a perfect midweek meal, as it only takes 30-45 mins to make. It's one of those dishes that looks fancy and as though you'd went to loads of effort: perfect for impressing that someone special…
Give it a go and let me know what you think!
Enjoy

x