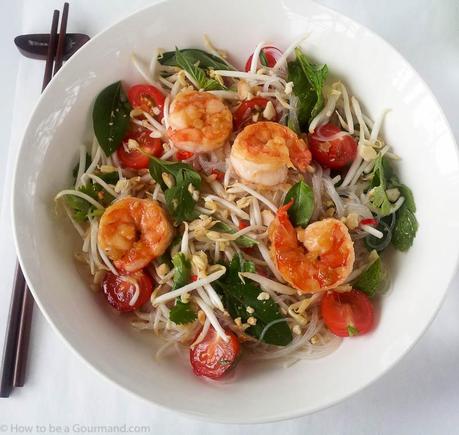 Celebrate Thai New Year with Glass Noodle Salad and Caramelised Prawns
An edited version of this post appears on Great British Chefs Blog.
Songkran or Thai New Year falls on April 13 and symbolises new beginnings for the people of Thailand. It plays host to what is sometimes known as the world's biggest water fight. Whether a person is sprinkled with or soaked by a bucket of water, the symbolism remains the same. It represents a gesture of cleansing, luck and renewal. The Sanskrit word Songkran means ascending or moving on and describes so well the transformation in nature as animals emerge from hibernation and buds spring to life. An overall feeling of new beginnings and a new year.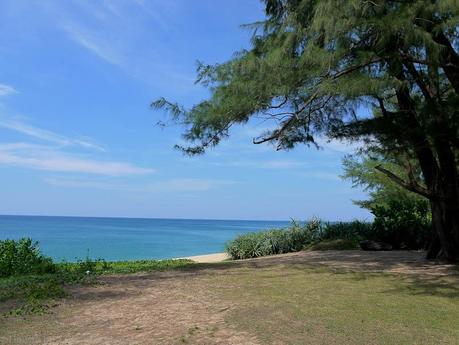 Beach Life – Renaissance Phuket Resort, Thailand
As well as it's breathtaking sandy white beaches and crystal clear waters, Thailand, or the Land of Smiles as it is commonly known, will always hold very fond memories for me as it was our honeymoon destination six years ago. Starting off in the capital Bangkok for a couple of nights, then heading up to Chiang Mai for some cooking lessons at the Dhara Dhevi, feeding the baby elephants breakfast in the Golden Triangle  and then enjoying some spa treatments and sunshine in Koh Samui. Never has such a place and it's people made us feel so welcome and we were glad to recapture it's magic when we returned to Phuket last year for a short break.
Our honeymoon included a couple of days on Thai Cookery lessons and with it came the introduction of the Glass Noodle Salad. Although, this recipe is different to the one we were taught at the time, it still contains the four staples of Thai cuisine: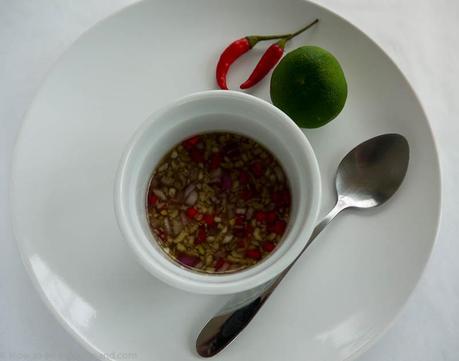 Dressing for Glass Noodle Salad contains the 4 staples of Thai Cuisine.
Sweet: Sugar
Salty: Fish sauce
Sour: Fresh lime juice
Spicy: Bird's eye chilli
In addition, the abundance of fresh herbs used in this salad, makes it an irresistible choice. Plenty of coriander, mint and the powerful aniseed notes given off by the Thai basil will transport you to Chiang Mai.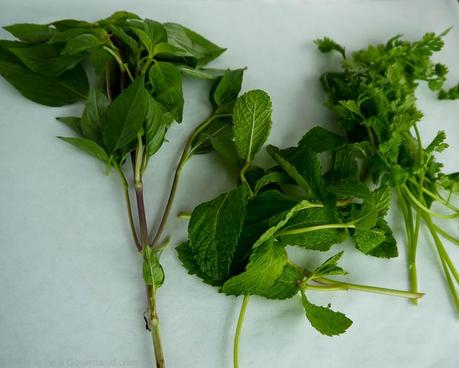 Fresh Herbs of Thai Basil, Mint and Coriander
Print Thai Glass Noodle Salad with Caramelised Prawns
Prep Time: 20 minutes
Cook Time: 5 minutes
Total Time: 25 minutes
Serving Size: Serves 2 for Lunch
A healthy, refreshing salad filled with spice and fragrant herbs. A wonderful way to mark Songkran. Glass Noodle Salads are very popular in Thailand but the caramelised prawns have given the salad a Vietnamese twist.
Ingredients
Salad
10-12 King Prawns, shelled, deveined and butterflied
1 packet of 40g bag dried glass noodles
10 cherry tomatoes, chopped into halves
1/2 Thai shallot, finely chopped
250g of bean sprouts
1 tbsp of peanuts, toasted and crushed
A generous bunch of Thai basil (leaves only)
A generous bunch of coriander (stems finely chopped and leaves)
A generous bunch of mint (leaves only)
To caramelise the prawns
2 tsp of palm sugar
6 tbsp of water
1 tbsp of olive oil
1 garlic clove
1 Thai shallot, finely chopped
Salt for seasoning
Dressing
The juice of 1 large lime
1/2 Thai shallot
1.25 tbsp of fish sauce
1 tbsp of granulated sugar
1 clove of garlic, pressed
2 bird's eye chilli, deseeded and finely sliced (only use 1 chilli if moderate heat is desired)
Instructions
Preparing the Noodles
Place the dried glass noodles in a bowl filled with boiling hot water and cover for up to 8 minutes or according to packet instructions.
When the noodles are al dente drain and run them under cold water for a minute. This dish is best served cold so it is vital that the noodles are cooled down.
Preparing the Salad Dressing
In a small bowl, pour in the lime juice and fish sauce. Add the pressed garlic clove, the chopped shallot, chilli and the granulated sugar. Stir the components together and assess whether it needs more spicy/sweet/sour/salty notes.
Making the Caramel sauce and Prawns (These should be made in conjunction with one another)
In a saucepan on a moderate heat, add the palm sugar and the water. Stir the mixture together and start to notice a thickness in consistency. After about a minute of cooking, turn off the heat. You should now have a syrup-like sauce.
In a frying pan over a moderate heat, add the olive oil, shallot and garlic. When it starts to become fragrant add the king prawns and season with some salt. After about 2 minutes the color should change from opaque to pink and the ends will start to turn up. At this point, add the syrupy caramel sauce and flip over the king prawns.
Cook for a further two minutes continuing to baste the prawns in the sweet caramel and garlic dressing. Remove from the pan and leave for a minute to cool down.
Assembling the Salad
In a large bowl, add the been sprouts, cherry tomatoes, the coriander stem, the shallot and the cold glass noodles. Liberally pour the dressing over these ingredients and toss together.
Then add the herbs; coriander, mint and Thai basil.
Serve the contents into two bowls and sprinkle over the crushed toasted peanuts.
Lastly, serve the sweet caramelised prawns on top of the salad.
Notes
Red onion can be used as a replacement for Thai shallot. Chicken can also be used as a replacement for prawns.
Schema/Recipe SEO Data Markup by ZipList Recipe Plugin2.2http://howtobeagourmand.com/thai-glass-noodle-salad-with-caramelised-prawns/Unless otherwise stated, text and photographs © 2011 How to be Gourmand. All Rights Reserved. Kindly request permission from the author to copy or reproduce elements of this blog.
Sprinkling the crushed toasted peanuts over the salad gives an additional layer of texture. Roasted rice will deliver the same crunchy dimension if peanuts are not a viable option.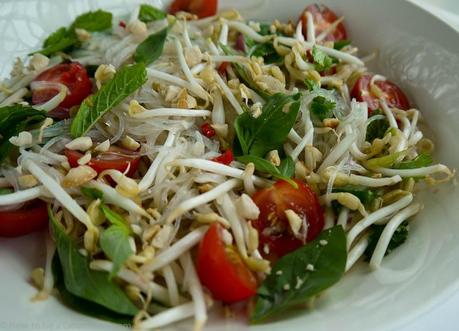 Glass Noodle Salad can be served without prawns. Chicken will also work well with this salad.
Last, but not least layer those sweet, juicy king prawns on top. The palm sugar gives them a rich caramelised color and texture. Prepare for a feast of flavours!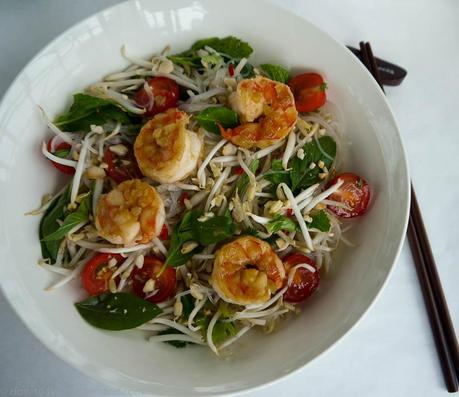 Ready to Eat – Glass Noodle Salad with Caramelised Prawns
As they say in the Land of Smiles, "Sawasdee pi mai". Happy New Year to all those celebrating!
What dishes will you be preparing to mark Thai New Year?
Like How to be a Gourmand on Facebook