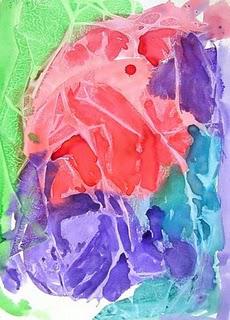 One of my favorite art books, The Usborne Book of Art Skills by Fiona Watt, has some really amazing watercolor projects, including this one using Saran Wrap.




1. Dissolve watercolor tablets in water, about one square to 1/2 cup of water ahead of time so that the students can paint with liquid color.

Give the students a large piece of watercolor paper (regular paper does not work!) and several cups of watercolor paint. Ask them to paint about 6 large spots that overlap just a bit, but do not go to the edge.


2. While the paint is still wet, cover with a large piece of saran wrap and press down, forming wrinkles - the more the better. Let dry at least an hour or until the paper does not feel wet. Remove the wrap.


3. Talk to the students about contrast, and how the colors currently have some contrast between the wrinkles, but not a lot. Show them how they can increase the contrast by painting the darkest areas again. If they paint carefully around the lightest areas of each color, the contrast is increased and the texture seems to jump off the page.