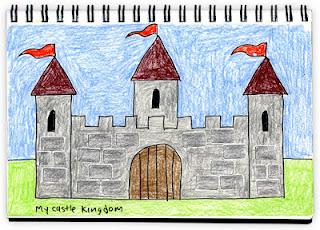 I tried this drawing out in my after school journal class and was really happy with the results. The boys got into the designing of their castle, and some girls went in the princess direction. Either way, doing a follow-along drawing and adding texture kept them focused and engaged for the entire class.


1. I found directions for drawing a castle here, and had the students follow as I drew it on the board. I encouraged them to draw large enough to fill the paper. They started in pencil and then traced the edges with a thin black marker. 2. I passed out sheets of small white gum labels that I found at the drug store for about $5. The kids applied the labels in a staggered manner to look like stone blocks.
3. Students colored in their castles with colored pencils or crayons, rubbing over the labels. The labels were a fun and easy way to add texture to their drawings. Lastly, they colored in the sky and ground and added their ever-important dates and titles.
CA Visual Arts Standard: Creative Expression, Grade One
2.1 Use texture in two-dimensional and three-dimensional works of art.