The terror in Turkey that took the life of Russian Ambassador Andrei Karlov may have begun two days prior, and while there is a Syrian connection, it is not clear if the two terror incidents in Turkey were directly related. On 17 December, an alleged member of the outlawed Kurdistan Workers' Party (PKK) crossed illegally from the northern Syrian town of Kobane to the Turkish border town of Suruç.
The bomber stole a car in Sanliurfa and drove it to the city of Kayseri via the Central Anatolian province of Malatya. According to investigators, the car was filled with nearly 200 kilograms of explosives. The target of the suicide-bombing, which so far has claimed 17 lives, was a military transport bus carrying Turkish soldiers.
The driver of the bus is also a suspect as investigators believe that he knew the car bomber and had attended rallies for the Kurdish PKK. Investigators believe that DNA will confirm the car bombers' identity, and they speculate that he may have received military training in Kobane, a city in the Aleppo Governorate in northern Syria, immediately south of the border with Turkey.
Hours after a deadly bombing targeting military personnel in Kayseri, several violent demonstration marches were staged against Turkish opposition party offices across Turkey.
Two days later, in the capital Ankara, Andrei Karlov, Russia's ambassador to Turkey, was assassinated while speaking at an art exhibition in Ankara's central Çankaya district. Karlov was rushed to the Güven Hospital where he was pronounced dead at 7:53 p.m. local time. Three others attending the speech were wounded before the attacker was shot dead by police.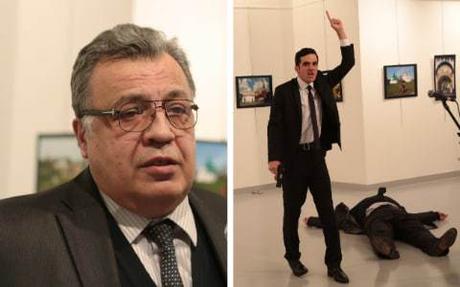 Turkish investigators have identified the attacker as Mevlüt Mert Altıntaş, a 22 year old police officer who was from the western province of Aydın. Altıntaş was a graduate of the police academy in Izmir and had been on Ankara's riot police force for two-and-a half years. The gunman reportedly shouted in Turkish " We die in Aleppo, you die here" and then " Neither you, nor me are going to leave here alive " before firing shots.
Ankara is generally considered to be one of the safer cities for diplomats and Karlov was known to travel often without security protection. That evening he traveled to the art gallery with his wife, without a security detail.
The assassination took place while Turkish Foreign Minister Mevlüt Çavuşoğlu was on his way to Moscow for tripartite talks with Russian Foreign Minister Sergei Lavrov and Iranian Foreign Minister Javad Zarif on Tuesday, 20 December. Lavrov and Çavuşoğlu will hold a press conference regarding the killing in Moscow.
Ambassador Karlov was born in Moscow in 1954 and was a diplomatic graduate of the Moscow State Institute of International Relations. He had previously served as the Russian Ambassador to North Korea, then as Deputy Director of the Consular Department of the Russian Foreign Ministry, and was transferred to Ankara in July 2013.
Russian president Vladimir Putin and Turkish president have pledged cooperation in fighting terrorism in the wake of Karlov's assassination.
Meanwhile a terror incident in Berlin at an outdoor Christmas market killed at least 12 people and left 48 others injured. Authorities now believe that the man who drove a truck into a crowd on Monday evening had come to Germany as a refugee from Pakistan this past February. It is reported that he had a criminal record in his home country.