Football season isn't just about football.  It's about gluttony.  Indulgence.  Spending time with the boys and smashing six beers before halftime.  Filling your stomach with nutritional atrocities like bacon-wrapped tater tots and four-layer bean dip.  In short, living the Dream.
But like all dreams, eventually we have to wake up and return to reality.  To the fact that we just consumed roughly 6000 calories in 6 hours and now feel like complete s**t.  So we hang our heads and pray – not to God, to Stomach – and silently apologize for the unnecessary abuse, as if repentance will somehow excuse our disgusting realization of the
Seventh Deadly Sin
.It doesn't have to be this way.  You can enjoy the game without destroying your stomach and your self esteem.  All it takes is a little creativity and self-discipline – the ability to call an audible in a highly standardized world of NFL snacks.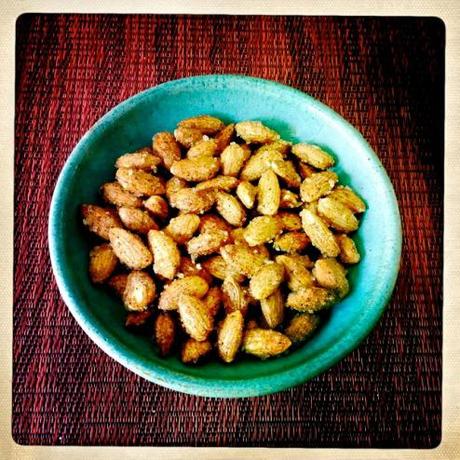 Almonds are crunchy, just like tortilla chips, but they provide healthier fats and significantly more protein.  When tossed in a lively  simple syrup of tequila and lime, then sprinkled with sea salt and chili powder, this oft-labeled "health food" takes on a sinfully delicious twist that's sure to impress the most gluttonous of friends.  So move over, bean dip.  Tequila-candied almonds are playing quarterback today.
Ingredients:
1 pound raw almonds1/4 cup tequila1/4 cup water2 tbsp lime juice1/3 cup sugarsea saltchili powder
Directions:
Preheat oven to 325 F.  Spread almonds onto a baking sheet.  In a small saucepan, combine tequila, water, lime juice, and sugar.  Bring to a boil, then reduce heat and simmer for 5-10 minutes, stirring occasionally.  When the mixture has thickened to a syrup, remove from heat and pour over almonds.  Toss to coat and sprinkle with salt and chili powder, to taste.  Bake for 10 minutes.