Small Sound is a mini-album that links Tennis' last release, 2012's Young & Old, with the band's forthcoming third LP. Thus far, the new album promises a much darker vibe than any of the band's previous material, which includes a breezy debut album inspired by a sailing trip (2011's Cape Dory). Husband/Wife duo Patrick Riley and Alaina Moore start making good on this promise throughout Small Sound, an EP that subtly hints towards the future, but also complements the past.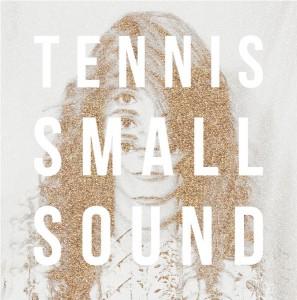 Groove-worthy rhythms take center stage on Small Sound, which is a far cry from the sweet nostalgia that's been driving the Tennis boat for the past few years. It's a necessary shift, and the band introduces their new approach elegantly among the EP's five tracks. Opener "Mean Streets" features a tinny beat and toe-tapping piano accents, with an added warmth to Moore's already rich vocals. "Born and raised on the mean streets/That's where she learned how to keep the beat," Moore sings about the song's protagonist, the late singer Laura Nyro, making for an ultimately sweet indie pop tribute.
"Timothy" brims with buzzing electronic fizz, while "Cured of Youth" delivers rich, soulful sounds in a polished package. The EP rolls through quickly, at a pace that's easy to digest and pleasant through-and-through. "Dimming Light" serves smooth romantic yearning, while "100 Lovers" ends things on a high note (both figuratively and, thanks to Moore's singing, literally).
In the end, Tennis' new EP keeps its listener full, but still leaves room for the material to come. In the space between young and old, light and dark, old and new, Small Sound successfully bridges the gap.

3 / 5 bars
timothy
Tennis – "Timothy"
dimming light
Tennis – "Dimming Light"