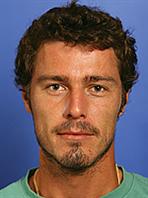 Marat Safin
Safin's career can be characterized in peaks and troughs. When he was on he was untouchable, when he was off, he was awful. His peak years were definitely 2000, 2004 and 2005, when he took home the US Open and Australian Open titles and became one of Federer's most serious rivals during that period, famously demolishing Sampras at the US and going toe-to-toe with Federer in the Aussie semi-final of 2005.
His big achilles heel was digging out matches that he should win but getting frustrated when he wasn't, especially with players like Fabrice Santoro (2-9), who's game was like Kryptonite for Marat.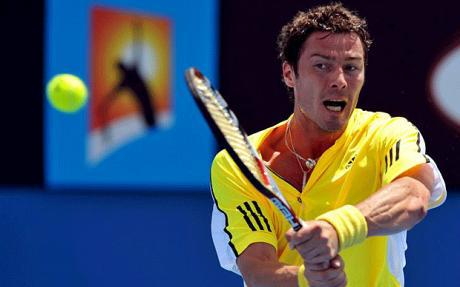 Letting fly with trademark backhand
Surprisingly he didn't like playing on grass, which you would think his game would be suited for, but Marat did not have the patience for bad bounces and breaking serve, but in 2008 he made the Wimbledon semi-finals, which was an indicator of what might have been were it not for his attitude.
A great personality on and off court, he will be missed but will most likely stick around in tennis and I wouldn't rule out a Davis Cup captaincy at some point.
Safin On Safin:
"Public opinion was in my head, that I would never win another major. I didn't think I could. My coach convinced me I could do it again. That's why this is my most special win. Beating Sampras was a mistake. I had nothing to lose. Nobody really cared. Even if I would lose in three sets, people would say, 'Great tournament, you played great-but he's Pete Sampras.' No pressure. Then the pressure came."
"I never lost it, otherwise I would have stopped a long time ago really, because for sure I'm not doing it for the money. Nobody's doing it for the cash. I think there are plenty of players that are doing it because they love the game. We love to go on the court. We love to suffer, and we love to win. That makes a huge difference, because after tennis, you're going to miss that adrenaline."
"I work pretty hard actually. A lot of people thought I'm not really a hard worker. You can ask all my coaches how I dedicate myself to tennis. They will tell you it's completely opposite. I worked for it,"

Others On Safin
"With Marat you know you are going to get an emotional roller-coaster. " Andy Roddick
"A very wild personality on and off the court and that's why we love him. When I think of him I think of an incredible player with incredible potential. And what a great player he really was for his height. He was really strongly built. He was able to move on the court you know and make it seem like he was a little guy but he still had the power of the big guys. e was, I think, one that also revolutionized the game a little bit. So it's sad in a way to see him go, but still he was able to do great things in our sport," Roger Federer 
"So big and so strong so you need to take care what you say about him."  Fernando Verdasco
"He's a very interesting guy with a lot of charisma and he brings a lot of excitement both on the court and off the court so tennis will certainly miss him," Novak Djokovic
"He's a pretty intimidating to play against he's a big, big guy. Very charismatic and he hit the ball huge. I was used to playing against juniors. And that was one of the first top guys I played against. He got the better of me on that occasion. But a great experience for me."  Andy Murray
"Tennis will miss him because he was a very good player and a very nice person I think people loved the way he was playing the way he is so he was a good guy for tennis." Richard Gasquet
"He was such a champion. He was a player who had great charisma, who was able to bring the people to the courts. He had a big temper. Everybody said when Marat was on, it was very tough to beat him. He would beat anybody in the world. Some time of his career, some part of it, he was doing that and he was No. 1 in the world and he was winning grand slam tournaments. He always came with something," Radek Stepanek

The Numbers
Career Titles/Finals: 15/12
Grand Slam Titles: 2 – Australia 2005, US 2000
Masters Series Titles: 5
Win/Loss Record: 421/226
Career High Ranking: 1 (2000)
Finest moment: Winning the US Open beating Sampras in the final
Famous For: Holding the record for most broken racquets in a year with 87 and he estimates that he broke over 700 racquets over the course of his 12-year career.
Watch: A fan-made Safin tribute
Watch: vs. Pete Sampras 2000