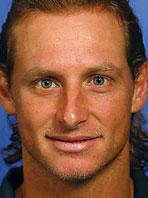 David Pablo Nalbandian
I've looked forward to writing about Nalbandian for a while, but put it off, since his career is not over and I wonder what surprises he might have in store for us. Nevertheless, considering he has just made another injury comeback, it's as good a time as any to delve into the mystery that he is.
An Armenian by origin, his name translates to 'horseshoe maker' and much like his people relies on his battling qualities in his matches. What is quite obvious at this point is that with all his talent, timing and technique, he should not need to battle. We've seen him completely outplay the best that have ever played in Nadal and Federer. For die-hard fans, which I am one, watching a Nalbandian match is like being on a roller-coaster not knowing when you can get off.
Grand Slam Disappointment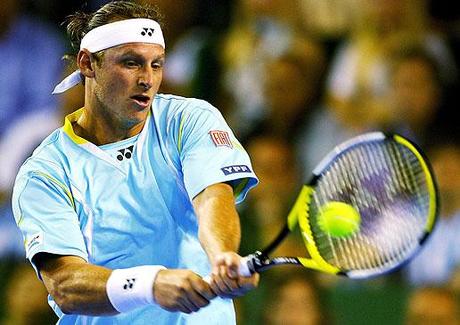 His big wins have all come in Masters Series events with his one sole Grand Slam final,  some what premature 2002 Wimbledon, where with barely any grass court experience he came through the draw to effectively tank against
Lleyton Hewitt
. Perhaps that was the closest he will come to a Grand Slam, considering his injury problems and the rigor of the 5-set format over 2 weeks. If that's so then that's unfortunate but like I said, he is a man of surprises.
When he puts his mind to it, as he can and does in Davis Cup, he can be unplayable – reminiscent of Marcelo Rios when he was on or Marat Safin. The sheer talent of the man has his opponents playing as if they were a cat playing with a ball and string, batting them from side to side. His touch around the net is also something to behold and if the only weakness of his game, his serve, was better then we would for sure be talking about a Hall of Famer and not an Enigma.
The Tao of David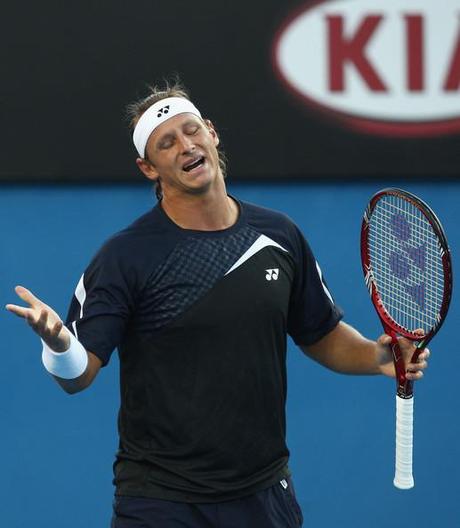 Some make fun of his weight, that an improved fitness regime is the answer, but if you have seen him dig out 5-setters in the Australian heat, then you realize this man is not unfit. If there is an Achilles, then it's been his attitude when not playing his best. What separates mere talent from the greats is the ability to figure out how to win playing ugly, as
Agassi, Federer, Nadal, Courier
etc all knew how to do. His devotion to Davis Cup and off-court interests is also a factor, perhaps the single-minded dedication to tennis that a Nadal, Federer or even
Hewitt
is the difference. But this is also what makes him so popular and fun to watch.
Wherever the answer lies, one thing we do know is that the tennis world is lucky to still have him and maybe there is some gas left in the tank to pull off a few more stunning victories before the big man bows out.
David on David:
"Very good players like Vilas, Clerc have won everything (in tennis) except the Davis Cup. So I want to win the Davis Cup. It's a different pressure than the grand slams. I play better in that than everybody else." On Davis Cup
"I think they are a step over the rest – for the moment. They are completely different players from the mind. Not the game.. The difference is in the mind. From the mind, they are different from the rest." On Nadal and Federer
Others on David:
"He's a pain in the ass when he plays good." Marcos Baghdatis
"He's the best returner in the world." Rafael Nadal
"It's never easy to play David" Roger Federer
The Numbers:
Career Titles/Finals: 11/11
Masters Series Titles/Finals: 2/4
Grand Slam Titles/Finals: 0/1
Win/Loss Record: *343/162
Career High Ranking: 3 (2006)
Finest moment: Winning the 2005 year-end Masters Series event beating Roger Federer in 5 breathtaking sets and back-to-back Masters Series events in Madrid an Paris, taking out Federer and Nadal.
Famous For: His girth, talent and curtness in interviews.
*still active
Watch: The best of Nalbandian