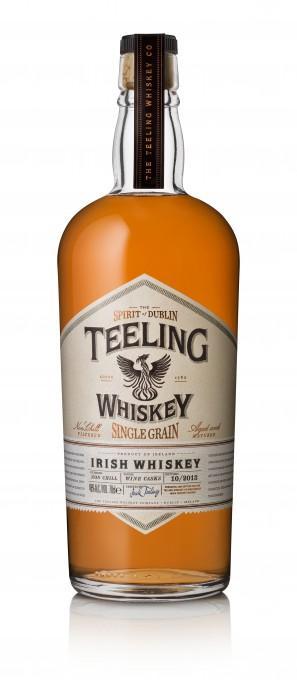 NEW YORK, NY February 17 — The U.S. whiskey industry is known for its corn/grain whiskey but the current world champion of this category comes for Ireland. The innovative Teeling Whiskey Company who have already released their award winning Small Batch rum cask finished Irish whiskey to critical acclaim are now launching their Single Grain whiskey. This release is to help drive the selection and breadth within Irish whiskeys at a time of growing interest in the United States for more innovative, unique and interesting Irish expressions.
Teeling Single Grain is one of only a handful of single grain bottlings in the world. It uses a completely unique maturation process fully maturing the whiskey in Californian red wine barrels. The whiskey is made by combining unique ingredients, with maize/corn dominating and uses modern column distillation to produce the whiskey, which is exceptionally clean and smooth with a touch of sweetness. Jack Teeling, founder of the Teeling Whiskey Company, commented, "It's a little known fact that the majority of Irish whiskey sold is actually Grain whiskey so we feel it is interesting to have expressions of Single Grain whiskey in its own right. Our new Teeling Single Grain is representative of our aim to help drive the expansion of the Irish whiskey category through unique bottlings and expressions."
The new whiskey has not gone unnoticed. Teeling Single Grain Irish whiskey was recently awarded World's Best Grain Whiskey at the World Whiskies Awards for 2014. First held in 2007, the World Whiskies Awards, run by Whiskey Magazine, search for the very best whiskeys in the world. This competition saw more than 300 whiskeys put through their paces with three rounds of rigorous tastings, to win the coveted title of the "World's Best".
The Teeling family whiskey heritage dates back to distilling in Dublin in 1782 and Walter Teeling who set up a distillery in Marrowbone Lane in the Liberties. Jack and his brother Stephen, Sales & Marketing Director, are just the latest Generation of Teelings involved in the Irish whiskey industry. While initially starting out as an Independent bottler their aim is to bring Teeling Whiskey home by establishing the first new whiskey distillery in Dublin in over 125 years.
Teeling Single Grain Tasting Notes:
Color: Naturally dark copper 'berry' red
Nose: Spicy with fruit notes intermingling with an underlying sweetness
Taste: Strong spice at the start evolving into rich red berries, fruit and tannin on the finish Finish: Dry finish dominated by wood and spice
The depth of character in Teeling Single Grain is from the maturation in the California Cabernet
Sauvignon barrels. This creates the deep amber color and contributes to the spicy notes and lush red berry and grape flavors.
Like all Teeling whiskeys it is bottled at 46% with no chill filtration allowing for all the natural flavors of the whiskey to be retained. Teeling Single Grain will be available nationally with an SRP of $49.99 for a 750ml.
World's Best Grain Whiskey 2014 – Teeling Single Grain Irish Whiskey – Judges Comments
• Good balance of sweetness and dryness providing a framework for their flavours to emerge -­‐ Ian Wisniewski
• Custard, brûlée, gentle warmed oak and candied, dried fruit. Tropical, almost leathery. Juicy and full mouthfeel, grain flavours layered with sweet plum. Lengthy finish -­‐ Seáneen Sullivan
• Sweet, rich, mellow with soft spices on the nose. Buttery, butterscotch, excellent maturity. Long lasting finish and perfect balance between sweetness and dryness. -­‐ Ludo Ducrocq
About the Teelings:
The Teelings have being crafting Irish whiskey since 1782 when Walter Teeling had a distillery on Marrowbone Lane in The Liberties of Dublin. At this time there were over 37 different distilleries in Dublin alone in particular centralized in the industrial engine room of the city: The Liberties; the Coombe, Newmarket and Smithfield.
During the 19th century Dublin whiskey became globally recognized as the premier whiskey in the world and some of the largest distilleries of the time emerged from these smaller operations in Dublin's Liberties. The remains of many of these can still be seen to this day however in 1976 the last Dublin distillery shut down with production moved to Midleton, Cork.
TWC Dublin Distillery
In January, the Teeling Whiskey Company (TWC) announced plans for a new whiskey distillery to be located in Dublin's Newmarket Square in The Liberties, Dublin 8. The first new distillery in Dublin in over 125 years brings the Teelings home to their ancestral roots. Production starts in the first quarter of 2015 and the visitor center opening its doors in Q22015. The project sees a significant €10million investment into The Liberties based location, creating at least 30 full time jobs. The distillery will also see 50 jobs created in the construction phase.
ABOUT THE TEELING WHISKEY COMPANY
Jack Teeling founded the Teeling Whiskey Company in 2012 to bring back an independent voice to the Irish whiskey category. His brother Stephen Teeling joined him in 2013 as Sales & Marketing Director and is a co-owner in the business. The Teeling Whiskey Company aims to be Ireland's leading independent Irish whiskey producer driving category choice and innovation through a selection of unique handcrafted small batch Irish whiskeys.
ABOUT JACK & STEPHEN TEELING
Jack Teeling is the Founder and Managing Director of the Teeling Whiskey Company. Jack has over 10 years experience in the Irish whiskey industry having previously held the roles of Commercial Manager, Sales and Marketing Director and latterly Managing Director with Cooley Distillery. During his time as Cooley's Managing Director the company experienced sales growth of over 85%. Jack holds an MSc in International Business (TCD), a MBS in Finance (Smurfit Business School) and a Bachelors Degree in Commerce from UCD. Stephen Teeling is the Sales and Marketing Director of the Teeling Whiskey Company. He was previously a Commercial Manager in Cooley Distillery and was appointed Senior Global Marketing Manager for Irish whiskey in Beam in February 2012. After 16 month managing Cooley brands integration into Beam, he left to join TWC in May 2013. Stephen holds a MBS in International Business (Smurfit Business School) and Bachelors in Business and Economics from Trinity College Dublin.