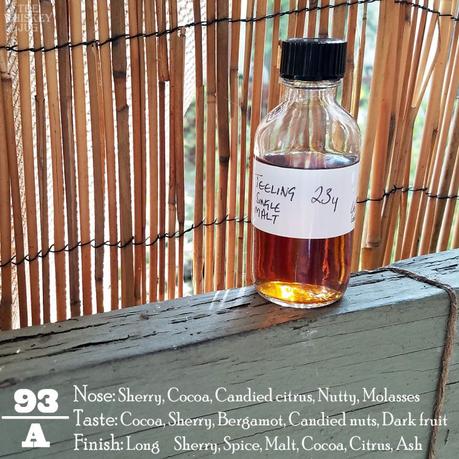 Teeling 23 Years Single Malt is a distillery exclusive whiskey. I've never been, but I got this sample from a very generous friend who has and as you can see from the photo it was a wonderful red hue to it which means one thing… sherry. Specifically this Teeling 23 Years Single Malt has been aged entirely in Oloroso sherry casks and is made from a malt known as crystal malt –  a malt that seems to be a favored specialty malt by Irish distillers.
Founded in 2015 the Teeling distillery has become a popular tourist destination and Irish whiskey brand, but how does a 2-year-old distillery have 23-years-old stock? Well they sourced it from their original distillery – Cooley.
During the sale of Cooley to Beam the Teelings made a deal where they were able to source whiskey from Cooley until they had their own stock ready to go. They also got to keep some key barrels, like these ones, with them after the sale. The deal they got from the sale is truly incredible and I'd love to know the details of how they worked that out, but that's not what we're here for. We're here for the Teeling 23 Years Single Malt review so we should get on with it.
Teeling 23 Years Single Malt Info
Region: Ireland
Distiller: Cooley (Teeling)
Mashbill: 100% Malted Barley (crystal malt)
Cask: ex-Oloroso Sherry
Age: 23 Years
ABV: 46%
Cask Strength | Non-Chill Filtered | Natural Color
Price: $270
Teeling 23 Years Single Malt Review
EYE
Tarnished copper
NOSE
Sherry, cocoa, candied citrus, toasted nuts, molasses, dark fruit, fruit cake spice, toffee and light bits of malt and gingerbread. Dense, deep and complex it has layers of dark rich aromas.
PALATE
Cocoa, sherry, bergamot, candied nuts, dark fruit, clove, anise, citrus peels, molasses, cinnamon, toasted fruit cake and bits of malt, ash and oak. It's everything you could want in a well aged heavily sherried whiskey.
FINISH
Long layers of sherry, spice, malt, cocoa, citrus, ash, black currents and black tea.
BALANCE, BODY & FEEL
Great balance, full body and a slick oily feel.
OVERALL
Teeling 23 Years Single Malt is a deep complex sherry bomb of a whiskey. Huge layers of rich dark fruit, dark sweets and complex spice. The aroma is heavier on the fruit and dark sweets while the palate is heavier on the spices and the finish is a balanced amalgamation of the two as it fades to a darkly sweet and fruity black tea.
I want this whiskey in my life every day. The Teeling 23 Years Single Malt is a rich, balanced and overall excellent representation of the beauty and elegance that can come in a dram of Irish whiskey. Especially when it's well aged and treated properly before bottling. Cheers!
SCORE: 93/100 (A)
Thanks to Alex for this Teeling 23 Years Single Malt sample!