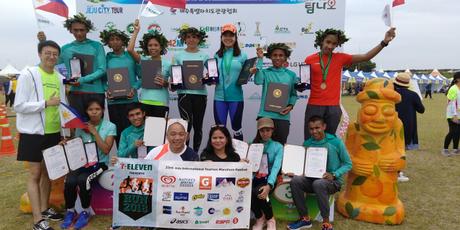 JEJU IS., SOUTH KOREA - "Race safe, enjoy and make 7-Eleven and the Philippines proud.", was 7-Eleven Run Series Project Head Michelle Saludes' message to the runners on Sunday, race day morning of the 23rd Jeju International Tourism Marathon Festival held at Gujwa Life Sports Park in South Korea's Jeju Island.
Eleven Filipino runners made it to the race courtesy of 7-Eleven Philippines, as part of their prize for landing within the top three spots of this year's 7-Eleven Run Series held last February. The runners, who carried the banner of Team 7-Eleven Philippines, lived up to expectations and grabbed podium finishes in the 21km and 42km categories.
Fresh from her training camp in Italy, Olympic medalist and marathon queen Mary Joy Tabal showed her winning form and finished the 21km race in 1:18:44 to come up on top, besting the Japanese and Korean elite runners who placed second and third, respectively. "I wasn't able to break my personal record but I am satisfied and happy with my overall performance. This race serves as an evaluation of my training and a good warm-up for me for the Asian Games next month.", said Tabal who flew back to Italy the day after the race to continue with her training which is due to finish by August.
Ruffa Sorongon and Christabel Martes, who directly came from their successful 10km race in last week's Philippine National Games, took the fourth and fifth podium spots of the 21km category to complete the Female top five.
Richard Salaño, Bulacan's "Kenyan Slayer" settled for a top two finish in the 21km male category, clocking the race at 1:11:19.80. Cebu's Prince Joey Lee and Cagayan de Oro's Jerald Zabala settled for the fifth and sixth place, respectively. It was Lee's and Zabala's first race outside the Phiippines.
Meanwhile, the Filipino runners also reigned in the 42km category of the race. Bryan Quiamco, who earned his slot by winning the third spot of the 42km race of the 7-Eleven Race Series last February, took runner-up honors as he finished with a time of 2:37:03.70. Richeel Languido grabbed third while Rafael Pescos placed fourth.
On the distaff side, the Filipinas ruled as veteran Davaoeña runner Judelyn Miranda covered the challenging course in 3:16:03.91 to bag the crown and beat team mate Maricar Camacho who finished at 3:26:55.02 and settled for second place.
"We are very satisfied with Team 7-Eleven Philippines' performance here at the 23rd Jeju International Tourism Marathon Festival. 7-Eleven Philippines will continue with its program to nurture and support our Filipino runners who aspire to get the chance to represent the country in an international race. With that we encourage them to prepare well and we'll see them on February 3, 2019 for the 2019 7-Eleven Run Series.", shared 7-Eleven General Merchandise Division Head Mr. Jose C. Ang Jr., when asked about the team's performance.
Ever since 2013, 7-Eleven Philippines have given a set of Filipino elite runners a chance to compete in the international stage by bringing them to a foreign running race, all expenses paid for plus pocket money and all needs taken cared of. Apart from this, runners who successfully finish on any of the top three overall spots in their respective category will not only get to bring home the race prizes but also receive a bonus cash prize from 7-Eleven Philippines.