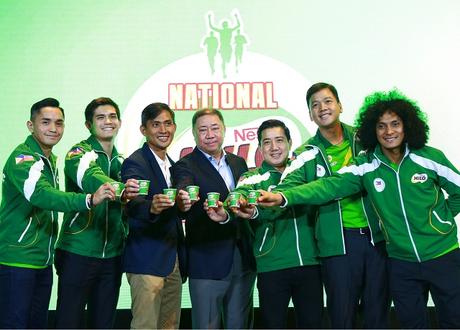 An exciting season awaits running aspirants and professionals as leading beverage brand MILO today announced the launch of the 2019 National MILO Marathon. Building on the anticipation for the Philippine-hosted 30th Southeast Asian (SEA) Games, this year's marathon series will center on the theme, "One Team. One Nation. Go Philippines!" in support for the Filipino athletes competing in the prestigious biennial meet.
With its mission to promote nation-building in sports, MILO continues to champion sports and inspire excellence among Filipino athletes through its grassroots programs including the National MILO Marathon.
In partnership with the Philippine Athletics Track and Field Association (PATAFA), MILO will send six-time MILO Marathon Queen Mary Joy Tabal and MILO Marathon runner-up Jerald Zabala to the SEA Games and represent the country in the marathon event.
After the unfortunate demise of MILO Marathon King Rafael Poliquit, PATAFA has decided to give the slot to the runner that succeeded Poliquit in the 2018 National Finals. Zabala, who won second place, thereby gets outright slot for the SEA Games. Poliquit still retains his title as the 2018 MILO Marathon King.
"We are deeply saddened by the loss of one of our country's greatest athletics assets, Rafael Poliquit," said Castillo. "As a three-time National MILO Marathon King and member of the National Track Team, he has been an inspiration to many. The values that he exemplified on and off the track have inspired countless individuals to persevere and strive for success not just in sports, but also in life."
National Finals in 2020
The new developments are expected to drive the number of runners in this year's marathon, with over 150,000 runners projected to join this season. The race will kick off in July in Metro Manila before shifting to other regional races across the country.
Subic Bay Freeport Zone is added in the list of regional legs, while Davao City returns in the lineup, making the National MILO Marathon accessible to running fans in Central Luzon and Mindanao.
For the first time, the National Finals will take place in January 2020 to make way for the SEA Games in November and December. The City of Tarlac has committed to host this season's grand finale in celebration of their annual KAISA Festival, the city's week-long fiesta, to provide a festive and cultural experience for all participating runners.
The 2020 National Finals will witness a fierce showdown between homegrown and international athletes as the Indonesian champions of the MILO 10KM run are set to take part in the grand finale. This unprecedented collaboration hopes to open more doors across MILO sports events in the region and also spark international interest in Philippine sports.
The PATAFA Road Race Tier Rating System is a certification given to PATAFA-sanctioned races that meet stringent criteria for quality location and logistics, course measurement and management, and actual event staging and flow.
Exciting Perks Await Runners
MILO will also roll out features to provide a holistic experience that runners can enjoy inside and outside the race track.
In partnership with cashback loyalty program provider, BeepXtra Philippines, Inc. (bXTRA), the Official Cashback Partner, all participants in categories 10KM and above will receive a limited edition bXTRA-MILO Marathon Cashback Card. Upon activation, cardholders will be qualified to receive Cashbacks from bXTRA partner outlets nationwide ranging from restaurants, hotels, retail stores, clothing, fitness centers to professional services and others.
Conrad Manila, the Official Hotel Partner, will provide exclusive discount privileges on hotel accommodations, amenities and restaurants including Brasserie, China Blue, C-Lounge, and Conrad Spa to all participants registered in the Manila Leg during the weekend of the race on July 26 to 28.
With the invaluable support of MILO Marathon runners and partners, MILO continues to help the youth across the country through the Help Give Shoes advocacy. For years, MILO has given new pairs of running shoes and sports equipment to undeserved students from public schools nationwide, in order to help them reach for their dreams and lead an active and healthy lifestyle. MILO has so far donated 85,000 pairs of shoes and 2,500 basketballs to its beneficiaries, and is set to give out 1,500 pairs of shoes and 2,500 basketballs this year.
The race will kick off in Metro Manila on July 28, followed by Subic Bay Freeport Zone (August 4), Lucena (September 15), Batangas (September 22), Cebu (September 29), Iloilo (October 6), General Santos (October 13), Davao (October 20), Cagayan De Oro (November 17), and in Tarlac for the National Finals on January 19, 2020. The Urdaneta leg, originally set on July 14, will be postponed. MILO is closely coordinating with local government and race organizers to finalize the new race date and venue.