Teadora, that is on the cusp of the newest super fruit extract in skin care! The Body Polish ($40) is great as it gets your skin ready for Spring and loaded with Cupuaçu – one of nature's strongest moisturizers, rich in vitamins, anti-oxidants and essential nutrients that improves the appearance, elasticity and texture of skin. Truly a pharmacy in a fruit!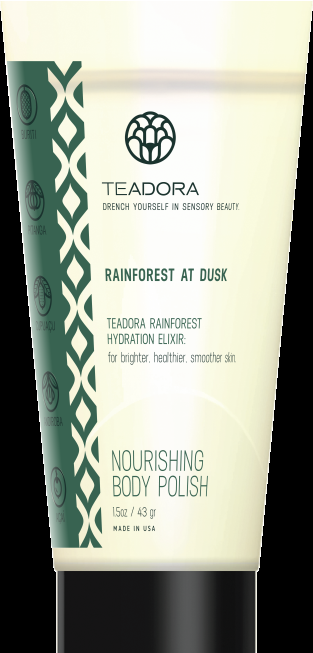 Teadora main ingredient Cupuaçu is a pharmacy in a fruit
Teadora, just hitting the beauty market is infusing the hottest new super fruit – Cupuacu in their body care line. This fruit is extremely popular in South America, especially Brazil, and is poised to become the next big super fruit to hit the U.S. Some nutritional food experts are saying that it will eclipse the popular Acai because it's healthier, has the same benefits, and is easier to grow without destroying rainforests.
With other novel ingredients such as Acai, Pitanga, Andiroba and Buriti – Teadora allows you to experience the beauty and magic of the rainforest. The brand was created by Valeria Cole, who worked with Steve Jobs at Apple – she left the tech industry after many years and created Teadora in just 8 months – a huge feat, as the line is gorgeous and really takes your senses on a journey to exotic locations in Brazil where she grew up.
The 2 fragrances ~ Rainforest at DUSK & Rainforest at DAWN consist of nourishing blends of shampoo, conditioner, lip butter, body wash, lotion and body oil & polish. www.teadorabeauty.com
Teadora products
You are supporting sustainable agriculture in Brazil to help stop rainforest deforestation. You are also funding a philanthropy exchange between the US and Brazil that promotes youth education, leadership development, and health. Be part of this movement we are calling EARTH FOR YOU. YOU FOR EARTH.
Teadora partners with Tiny Purple Fishes
A non-profit that helps young people in US connect with their local community and the world by promoting community service and teen leadership. Through this partnership, we are helping to develop better living in communities around Brazil and the US.