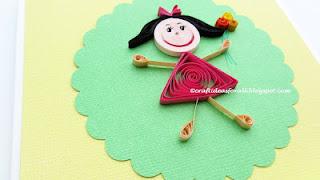 Most of the schools in USA have their year end celebration in the last week of May or somewhere between first week of June or mid June. During this time frame some celebrate Teacher's Appreciation day or simply appreciate Teachers for their year long hard work with the kids. It is a great time to show how grateful the kids and their parents are for their guidance and encouragement throughout. As most of you will agree getting a good teacher for your kids is nothing short of a blessing and you should always show gratitude. This was really the first time I really had a chance to thank her Preschool teachers as well as her Dance teacher.Like everybody else I wanted to give something useful as well as something personal and unique. After a lot of thought and deliberation this is what I came up with.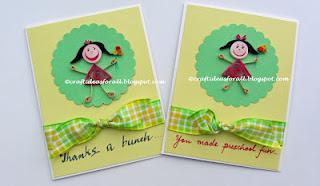 For the preschool teachers, apart from the common contribution for gift cards I packed a big box of assorted chocolates and made a handmade paper quilled greeting card. I made two similar cards for both of her teachers.I was inspired by Alli Bartkowski's book
50 Nifty Quilled Cards
of quilled creations.Inside that I wrote a personal message and my daughter wrote too.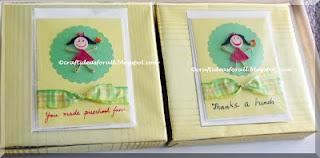 For her Ballet Teacher I made the above gift card holder with a beautiful pink Ballet Dress also called Leotard. The gift card holder is entirely handmade and has Velcro closure to keep the gift card secure. It makes it reusable as well. She loves coffee so I included a Starbucks gift card in it. Along with it I included a co-ordinating note card with personal message.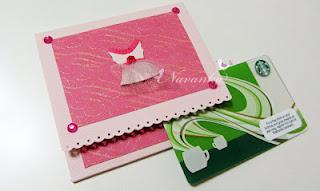 Hope you will get some inspiration from these ideas for the wonderful teachers that play such an important role in the overall growth and development of our kids lives. Thank you teachers. ps: We do sell
gift card holders
at our online
Etsy shop
. You can see some of our popular designs there. We can also customize the gift card holders if you have anything specific in mind.