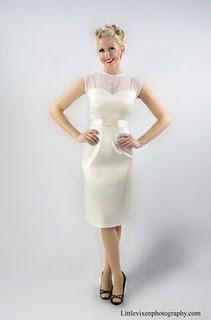 Whatever Lola Wants, Lola gets ... and she loves this tea length ivory stretch satin bridal dress.  It's both goregous and rewearable. Simple, but elegant while oozing femininity.
This wedding dress combines many details found in timeless vintage apparel: elegant see through material with rounded neck at the bodice; a strapless pencil skirt design with sash that visually slims.  And it's only $130.00!
Check out this and other Wedding Dresses at GetGoRetro.com!