Being British it's almost essential that you drink tea, but I'm not found of your standard cup of tea. Don't get me wrong I will drink it and enjoy it on occasion, but it's not the tea I choose to drink on a daily basis.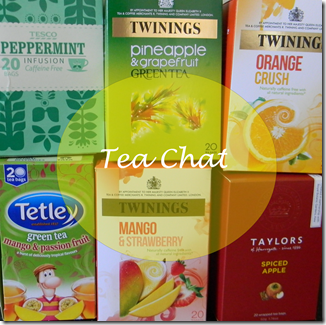 I'm a big lover of herbal tea, and today I have 6 to talk about which I currently have open in my cupboard.
Peppermint Tea – I currently have a box from Tesco open, I usually drink this when I feel as though I can expect an IBS flare up coming on, I like to warm myself up from the inside and the peppermint is really soothing.
Pineapple and Grapefruit Green Tea – I received this tea from Lucy in our Tea Swap just the other week. I can't really taste the pineapple or grapefruit coming through. I've only had it a couple of times so maybe I haven't infused the teabag for long enough to allow the flavours to develop. I'm not a leave the tea bag in sort of person.
Orange Crush – I feel as though the orange flavor in the tea is artificial, not at all like orange squash but also it isn't a strong flavor. I expected it to taste like having warm orange juice which I absolutely love when I'm not feeling so well. I think it could possibly be orange essence or extract as it does taste a little like the orange in my favorite chocolate.
Mango & Passionfruit Green Tea – I like this because it has all the benefits of green tea, and yet still has the fruity flavours which I really enjoy. I like to have green tea as my first cup of the day, I'm not sure why but it's just something I do.
Mango & Strawberry Tea – Easily my favorite tea, it's the one I always have to replace. Ever since trying it earlier in the year I've not allowed my cupboard to be without. It's also one of the teas which I gave to Lucy in our tea swap, I went a little overboard and bought three boxes.
Spiced Apple Tea – I highly recommend that you all go out and buy a box of this tea, it is just divine! It tastes like autumn and winter, it has cinnamon and cloves in it, which are exactly what I love about Christmas. I also love that inside the box they're individually packaged so I can pop some in my handbag for when I'm out and about and no where has a tea I fancy.
Are you a tea drinker? Which tea is your favourite, maybe you have one you think I should try?
Beth x