A week ago Jay and I did something we have never done before and we are so glad that we did. We had afternoon tea at Eldon House, a local historic landmark and museum. The grounds and the house are both beautiful and I think the city is lucky to have this gem.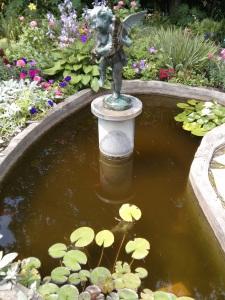 We had tea as a part of their summer tea program. With this program, they serve tea from 2:00pm to 4:00pm on the west lawn Tuesday to Sunday from the end of June to the end of August. The price is very reasonable for what you get as well. You have your choice of four loose leaf teas, scones, fresh fruit with butter, jam and cream. It was delicious.
We wandered around  for a little bit before we sat down to tea. The grounds were very pretty. The gardens are lovely and smell just amazing. I'm sure I could sit in the gardens for hours! We easily spent the full two hours there. When we did actually sit down for tea, Jay went with the more traditional earl grey, and I tried a pomegranate lavender green tea.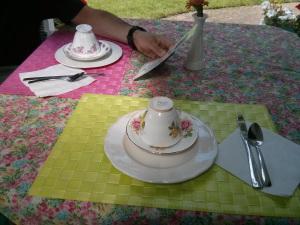 It was a beautiful set up on the veranda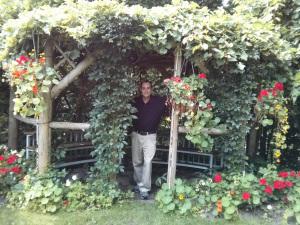 This little nook was my favorite place in the yard. We sat here for a while before we actually sat down to take our tea.
We were surprised at how busy it was, as many tables were filled aside from our own. There were several mothers and daughters, and it looked like a whole family as well. There was a lot of activity, but it also did not seem too crazy. The service was also phenomenal, considering we were served by museum volunteers. After tea, we toured the inside of the house, the actual museum. It's a very neat experience and I would recommend visiting Eldon House at least once.
The whole experience overall was excellent and we will definitely before going back. If not again this summer, then definitely more than once next summer!
If you want to learn more about Eldon House, its history and its events, you can find it all here.