Outside Ladurée
I love Paris. I have always loved Paris. I will never stop loving Paris. Why? It's where I met my husband, it is home to some of my best gastronomic experiences, the atmosphere is brimmed with romance and creativity and you can walk for miles and miles, taking in wonderful architecture and scenery and never fail to be amazed.
We travelled to Paris last month to take in the joys of the city in early Spring.
We had focussed mainly on the
La Rive Gauche
, passingJardin du Luxembourg and La Sorbonne
We had planned on sitting down for a drink in Saint Germain des Près. Two places had been recommended;
Les Deux Magots
or
Cafe de Flore
 but I believe that this is more about appreciating their appeal to their literary clientele of days gone by than actually having a nice refreshment. I suppose it's a good location for participating in the national activity of people watching or if you like going places "to be seen", but I am afraid that just does not do it for me.
I wanted something better and was set on walking a few metres further to seek out the 
Salon de

th
é, 
Ladur

é

e
Opened in 1947, this tea salon is a thing of beauty.The gold embossed signage and shop frontage denotes superior quality and its period of origin is enhanced further by the very classic French lantern hanging outside.
Inside, the shop is buzzing with activity as ladies queue up to purchase a 
Ladur

é

e 
gift box 
containing innovative macaroon flavours or to indulge in one of the many gateaux masterpieces on display
. Firmly agreed that we are here longer than just a few passing moments, we head upstairs to the parlour on the first floor.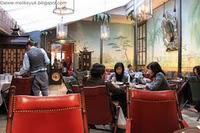 Inside the Salon de Thé
It doesn't appear too busy and we are very kindly escorted to our table.We take in the pleasant surroundings on very comfortable red leather chairs. We overlook a room sprinkled with oriental charm; great detail is depicted on the walls and furniture.
There is no question over what I am here to order; Macaroons, the challenge will be; which flavour?
The choice is endless; "Macaroons of the S
eason":
Madagascar Chocolate Ganache, Granny Smith Apple, Chestnut, or, those from "La Collection"; Liquorice, Orange Blossom, Salty Caramel.
Compared to some of the flavours on offer, I opt for the more traditional, Hazelnut and Almond macaroon.Instead of having one mega macaroon, (they have sold out), we are offered 4 mini ones! The selection of tea is also an extensive list and I am spoilt for choice. I take time to consider the various options; Orange Blossom and Magnolia or Cardamom,Cinnamon,Pepper and Ginger. I play safe and choose Cocoa, Caramel and Vanilla!

Hazelnut Praline Macaroons:
Check out those babies!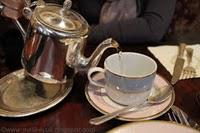 Cocoa, Caramel and Vanilla Tea
The macaroons are adorable; crisp and deliciously light on the outside with melt-in-the-mouth qualities on devouring.The ganache filling is mousse-like in texture, not too rich and lightly perfumed with hazelnut sweetness to provide your taste buds with a gentle awakening.

Double Espresso
My tea is a perfect 
accompaniment to the macaroons; refreshing with subtle notes of cocoa, caramel and vanilla served in a charming silver teapot.
Catching up on his need for caffeine, my hubby ordered a double espresso. He wasn't to be disappointed. Packing a punch, rich in flavour and generous in measure, this coffee was one to remember!
All in all, it cost us around 19
€ which I thought was quite reasonable considering the quality produce, the pleasant surroundings and the alternative options aforementioned.
Call me an old romantic fool, but as night fell, we headed towards
Le Pont Des Arts
, a bridge famed for couples declaring their undying love for one another by attaching their padlocks to the metal railings. Ah Paris! Je t'aime! Anyway, I digress......

Le Pont Des Arts
The exciting news is that as well as having a presence in Harrods, a new stand alone 
Ladur

é

e 
Salon has just opened up in Covent Garden in London so you can sample the delights of the
Ladur

é

e 
macaroons and tearoom for yourself. I'll probably wait for the crowds to die down before paying a visit, but if you go, I'd love to know what you ordered and what you thought!
For further information click the links below:
London:
Covent Garden Stand alone tearoom
Harrods
Paris, Left Bank (I strongly recommend):
Ladur

é

e, Rue Bonaparte, Paris
Enjoy!
x