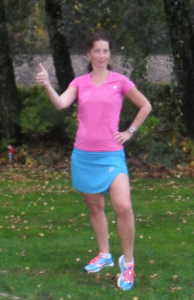 This skirt wants you to show off your leg!
Sometimes it just sneaks up on you. And then it hits you, just when you weren't looking: a motivational crisis.
That's what happened to me this morning. I réálly didn't feel like running. Luckily I had the perfect medicine: a new running skirt! Nothing like a new piece of clothing to get a girl up and running!
Tchibo running skirt
I bought this Tchibo running skirt for 1,38 bucks on the German eBay website. After adding shipping expenses it set me back about 12 bucks. It's always a bit risky buying something without trying it on first, but in this case it paid off.
Because the Tchibo running skirt is a great addition to my running wardrobe. It comes with built-in pants which are about 11 inches long. The skirt itself measures about 16 inches. That makes this running skirt a bit longer than my other running skirts.
The length took some getting used to. At first I felt a bit like Mel Gibson in Braveheart… But then I discovered my left leg kept peeping out of the little split on the left side, making me feel very flirty. I forgot all about the slightly longer length I was so busy showing off my leg. Besides: the longer the skirt, the more cellulite stays hidden. And that's álways a good thing.
The material feels luxurious and expensive. It's made out of 87% polyester and 13% elasthan. It feels much more pleasant than my Lidl running skirt, which feels like a parachute.
There's a little pocket that closes with a zipper in the back of the skirt.
Tchibo running skirt: comfort is great
Even though I had to get used to the slightly longer than average length, I have to admit the comfort the Tchibo running skirt offers is great. Especially with temperatures dropping, this skirt will keep you warm for a while longer. And the inbuilt shorts stayed in place! Which is an absolute must for running skirts, I always feel.
Tchibo: take that Starbucks!
I did some research into this Tchibo brand, and discovered they started out selling coffee! Much like Starbucks. Then they expanded and now you can buy all kinds of things from Tchibo. Like running wear. Their running clothes retail from 12 euros for a running shirt to 49 euros for a pair of thermotights.
Tchibo running skirt: picture gallery
This is me showing off my new running skirt! Just click on the picture if you want to see the big picture. Pun intended.
Tchibo running skirt front view
Built-in pants
Showing off the little pocket!
Take if from the side!
View from the back
To sum up
I love my new Tchibo running skirt! I highly recommend it. You can check out Tchibo running wear at the Tchibo website.