The Indian buffet is, at this point, pretty much a classic restaurant genre. Yet finding a decent one in NYC can be rather tricky. Sure, there's the Jackson Diner for Sunday brunch, but their kitchen has seen better days (and one actually has to get up in time to get out there for brunch...).  Indian Taj, a bit further up the block is okay in a pinch but just isn't all that good. Luckily, a newcomer has arrived to take up the slack: Tawa Tandoor.
Most of the cooking here is Indian food's first cousin, Pakistani, as are the owners. The charming matriarch of the establishment told me that they have cooks there from India, Pakistan, and Bangladesh, so there are all sorts of influences floating around here. But what makes this place stand out is the quality of its offerings. Everything is prepared with care and attention, with good ingredients, producing flavors are almost always fresh and vibrant - a rare thing for a buffet at this price point. And when that price point is $11.95 a head at dinner, it's practically a steal.
The restaurant is halal (no pork - and I didn't even miss it!), with a good selection of both vegetarian and meat options on the buffet. The spread is pretty much the same every day, with an item or two traded out occasionally. My perhaps-a-bit-too-hurriedly-taken photos don't do the food justice, but it will give you an idea.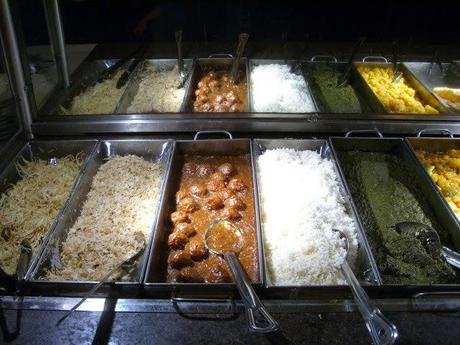 From left to right: hakka vegetable noodles, vegetable fried rice, vegetable kofta (delicious "meatballs" made of vegetables), white basmati rice, and palak paneer (spinach and Indian farmer cheese, also known by the less specific, but more common, name saag paneer). The hakka noodles are fun and tasty, the vegetable kofta unexpectedly delicious (at least it was unexpected by me, confirmed carnivore that I am), and the palak paneer has a bit more bite (in a good way) than most versions you'll find.
Continuing the vegetarian offerings: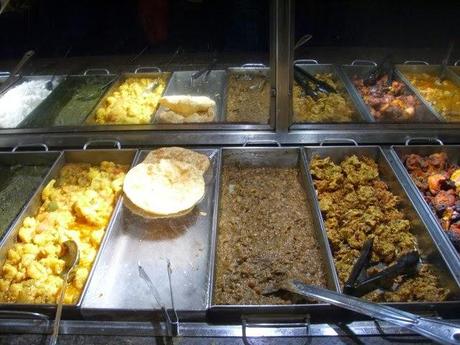 From left to right: aloo gobi (curried cauliflower and potatoes), poori bread, chana masala (curried chickpeas), and vegetable pakora and samosa. Most of these I have not, in fact tried (there is almost nothing you can do to cauliflower to make it appealing to me, and I prefer to get my starch overloads in ways other than pakora and samosa). But chana masala is an especially dark, rich version of this dish, and puffy, crispy poori bread is always fun - try to catch them just as they're bringing fresh ones from the kitchen.
And, finally, the meat: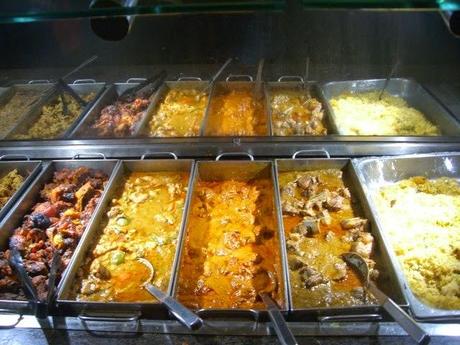 From left to right: tandoori chicken, chicken jalfrezi, chicken tikka masala, goat curry, and chicken biryani. Once again, if you can catch the tandoori chicken on its way out from the kitchen, you'll be rewarded with some very moist, flavorful pieces of chicken. There are usually chicken kofta (lovely chicken meatballs in a complex gravy just spicy enough to be interesting) in the chicken jalfrezi spot, but the jalfrezi was in no way a disappointing substitute - chunks of chicken and vegetables simmered in a slightly spicy, yet soothing, curry sauce. The favorite of Americans, chicken tikka masala, has more kick to it - and firmer chunks of chicken - than almost any version I've tried, raising it far above the cloying glop one usually gets. I was told the goat curry is quite popular, and indeed it is some of the best goat I have had in this country.
There are also some salad and dessert items to round out the selection - rice pudding is on offer almost every day - and a fresh naan bread is brought to you almost as soon as you sit down.
Tawa Tandoor
37-56 74th St., Jackson Heights 11372
718-478-2730
(E, F, M, R, or 7 train to 74th St.-Broadway/Roosevelt Ave.-Jackson Heights, then a short block north on 74th St.)
website