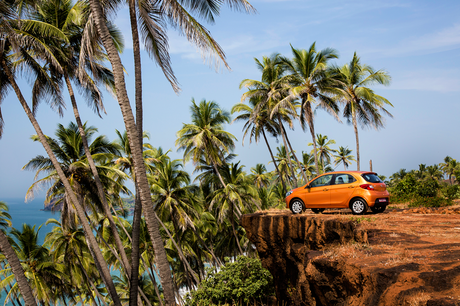 What's up fellas, having a long bore day. Well, I don't think everyone is like me, so that will not be the case. Now, back to the topic, Tata is going to launch its new warrior in the field. I mean not literally, Tata is going to launch a new car that is named as Zica.
Tata Zica – Car with Amazing Features
Now this car is filled with lots of amazing features and believes me when I say, lots of amazing features. Tata is having a unique and great design which makes it apart from the rest of the car.
What makes its design as great? Well, Tata thinks about its designs a lot. And, they thought that why don't we hire all the best available designers to work on the same project. Which they did, so all those designers pour their creativity into the project, and we get TA-DA, I mean Tata Zica.
But, wait there is so much more than design. I mean, you will not buy a car because it looks good?
Now, I won't be telling you about all of its features because that will take days. I will tell you about the qualities that I like.
Well, I am not a car loving person but I do love comfort. I mean a car can save you from walking in summer, winter or rain. So, that means I was craving for comfort from this car as well.
I think Tata also believes in my philosophy, and they have put a lot of effort on making the Tata Zica very comfortable. Tata Zica has a lot of space and very powerful AC. You can roam in it no matter what the weather is.
More to that, for those who always remains in a hurry. There is a mode in which your car will get more pick up per unit time and will become your racing car. Although, speeding is reckless, please avoid it.
And to those, who likes to save oil, not for the future generation, but to save their money there is an Economic mode, which will give a less pick up per unit time but increase your average consumption of petrol/diesel per Km.
I know what are you thinking if the car is not released yet then how can I know all these things?
The trip to Alila Diwa Goa Organised by – Tata
The folks at Tata, with the help of IndiBlogger, invited 59 other bloggers and me for a fun trip to Goa. Now, all the expenses were paid by Tata, even our flight tickets. And, that was a great experience.
The folks at Tata made all the arrangements for us, which includes staying in a 5-star resort Alila Diwa.
Let me tell you a little about my journey. On 5th December, I picked a flight to Goa from Delhi and reached there at 3:00 Pm. After that, they provided me lunch and gave me the key to my room.
After that, they told us that in one hour they will take us to the beach where we will have some activities. Those activities were the one at which I am bad, really bad, and they are sports.
When we reached the beach, we were told that here we would play Soccer. I am bad at sports but not at Soccer at least. We played the soccer on the beach, and that was fantastic.
Later we came back to the resort, and we were told that soon, Tata will discuss its new car. So after having a refreshing tea, we entered a big hall and the things inside it were amazing.
No, the car wasn't there but there were lots of almirah type columns and every column was filled with a great T-shirt, a pen drive and some other things. More to that, on top of every column there was a name, and those names were ours. Tata made a column for every blogger and put these great things so that we can take them.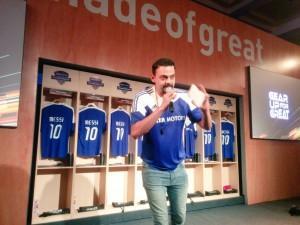 Later an unexpected host entered the room, and he was Cyrus Sahukar. He is a great celebrity and seeing him there was a great surprise. Later the curtains were folded, and I meant that literally and the new Tata Zica was represented in front of us.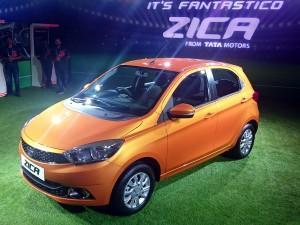 It was a great beauty and I learnt lots of things about Tata Zica from the people who made it.
We were told that the next day we are going to take the Zica for a long ride. How long you ask, the answer is 60 Km, which was enough to know about the Tata Zica. On the trip, certain challenges were given to us, which my team and I didn't perform well. You ask why? Well, I want others to win this :).
On that long drive, we took many pictures and recorded many videos, Now I am not going to share them but I can tell you this it was a great experience.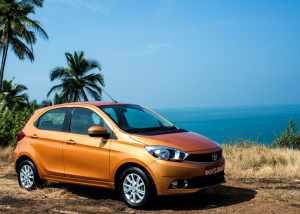 Now before finishing this Post, here are some other facts about Tata Zica:
Tata Zica has been tested and driven for 2 Million Kilometres that is approximately equal to 5 times trips to the moon.

Platinum, Palladium and Rubidium are some of the metals which used in making this car.

It will be released in two variants which are Sun burst Orange & Espresso Brown.
The boot have a capacity of 242 litres with an inbuilt refrigerator.
You can connect any Android or iPhone with this car which will give you the feature of Voice Navigation and using the Jukebox.
It has 5-7 interior parts which can be customized to your needs.
So, that's all on Tata Zica and #MadeOfGreat.
Author information

Rohit Sharma
Author

at

TechnoCR
I am Rohit, a simple author on this website. I am still studying and learning new things everyday. I am not a perfect blogger just a newbie. I just love latest technology and have a addict to write and share what I know cause sharing is caring.
Twitter
Facebook
Google+
LinkedIn