I recently had the opportunity to try
Tasting Counter
in Somerville, a restaurant I'd been dying to try since it opened last year. Tasting Counter is located inside the
Aeronaut Brewing
Space in Somerville, which is the location for several other local producers including a coffee maker and chocolate producer.
   Tasting Counter is one of the only restaurants in Boston to offer a ticketing system, which is something I'd previously only seen in other cities. You buy a ticket in advance for a set price ($55 for lunch and $150-$165 for dinner) that includes a multi-course meal, beverage pairing (wine, beer, sake, or non-alcoholic), tax, and gratuity. The lunch service is a recent addition, and I was excited to attend a luncheon hosted by the new Beverage Director, Eileen Elliott formerly of
Social Wines
, my favorite local wine shop.
Eileen always recommended amazing wines at Social and I was excited to try her picks at Tasting Counter, which features all natural wines.
   We started with a tour of the space and tasted some great new brews from Aeronaut before sitting down to lunch. Our meal started with this delicious  trio of small welcoming bites.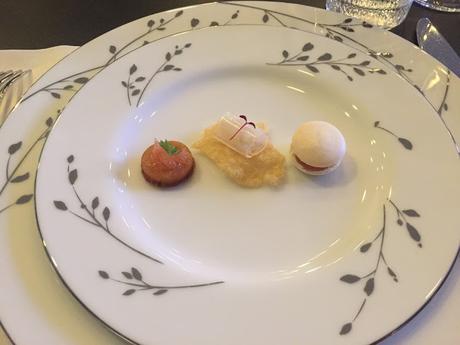 Welcoming Bites: fluke with sake rice, rhubarb, almond, and black olive,  andocean trout with sesame and grapefruit
   Next was the first course, hand rolled seaweed pasta. Mine was in a delicious (and dairy free) miso broth, while the other guests enjoyed their pasta with lobster custard. This was light and full of fresh flavor.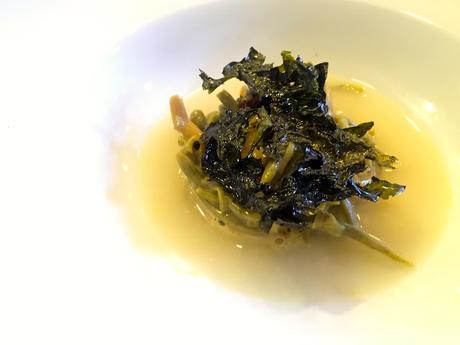 Rolled Seaweed Pasta with, sea urchin, wakame
   Next was a palate cleanser of Schisandra Berry Tea paired with a pine nut cookie.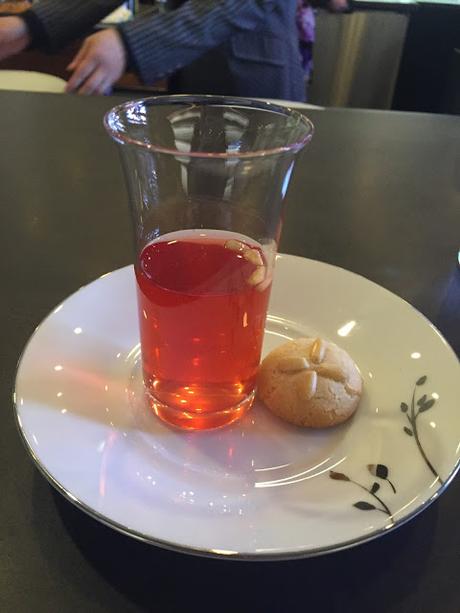 Schisandra Tea with a pine nut cookie
   The main course was a miso-torched Hake on a bed of beluga lentils with mushrooms and charred leeks. The light and flaky fish was a perfect contrast with the more rustic and earthy flavors of the lentils and mushrooms.
Miso-torched Hake with enoki and charred leeks on a bed of beluga lentils
   I enjoyed watching the Chefs prepare dessert almost as much as I enjoyed eating it! The rich dark chocolate with preserved orange and green tea sorbet was the perfect way to end the meal.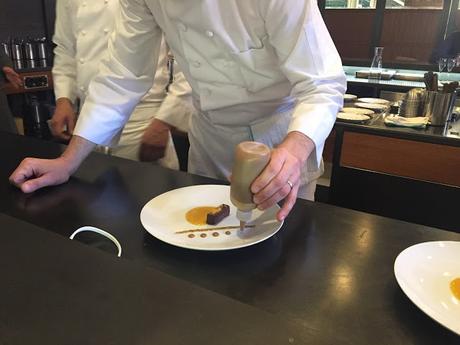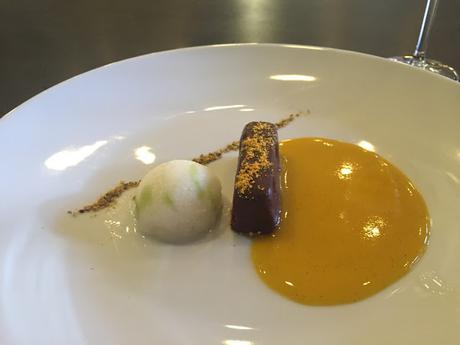 Chocolate with milk jam, preserved orange, and green tea sorbet
   Except it wasn't the end! Much like the meal began, we were presented with this delicious trio of parting morsels.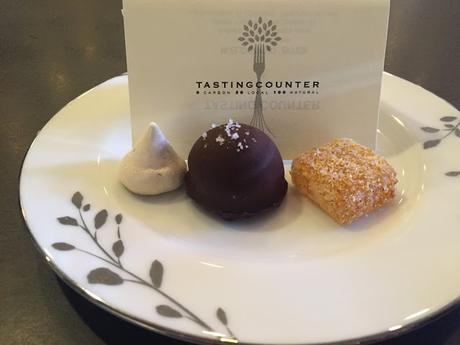 Trio of Bonbons: malted coffee meringue | duck liver ice cream chocolate | apple chew
   I loved my lunch at Tasting Counter and can't wait to come back soon for dinner!