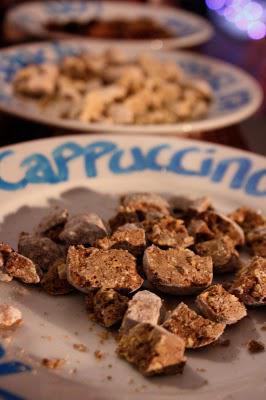 After waiting in excited anticipation for Taste of Dubai for weeks, I woke up this morning with a major sinus block. Overnight, my olfactory system had turned into what felt like a brick - yes, a big hard, rectangular brick. My ears were bubbling, my eyes watering, and all I could smell was the charming aroma of my own infection. More than half of what we "taste" is actually "smell", and my

morning coffee

was just bitter mud without the toasty nutty aroma. My omelet was just an exceptionally tender Wettex, and by the time I got to lunch, I was so completely full of snot that all I could ingest were peppermints and

Ginger ale

. Alack, alas, woe is me! Taste of Dubai would be like a sandwich made of sand.
Added to that, Hambone, my partner in culinary crime had to pull an all-nighter at the office. I snarled and whined like the unsympathetic wench I am, telling him he was destroying my evening, but he failed to provide any heartfelt apology, or change his plans for the evening. Then the weather changed, and the glorious spring day shamalled itself into an icy sandstorm, and so at 6:45 I found myself be-snotted, cold and alone in my soundless bubble, wondering why I had bothered coming at all.
My friend Sally works for MMI, and she had kindly booked me into the 7pm session of "who's wine is it anyway" at the beverage theatre, and so at least I had some direction to start my night. The beverage theater is a small marquee sealed blissfully from the clamour and wind of outside, complete with fake turf and chandeliers. For a moment I felt like I was back in the Bird Cage in the Moet tent at the

Melbourne Cup

. But no champagne today - three glasses oddly positioned on a tasting mat set for four - two white and one red. The room filled quickly, and a presenter welcomed us with happy quips and a casual manner. The three other blokes standing near the bar looking like winemakers in their jeans and buttoned shirts were actually the MMI wine experts, and they would be playing a

little game

with us today. Each would, in turn, give us a speel on the wine we were tasting, and we would have to guess which tale was truth.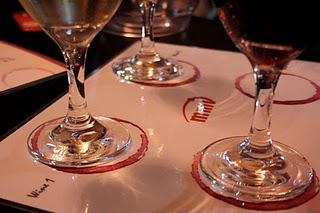 So as the ex-Aussie in the panel started to describe the first wine as a

NZ Sauvignon blanc

, I swirled it expertly like the pro I am, and delicately stuck my nose in the glass. I smelled.....wine. Great. For the first time that night I was happy I had no friends around me, because as a graduate in four years in wine marketing at university of Adelaide, they might have expected me to know what the wine was. Oh well.... Not NZ

Sauvignon blanc

, anyway. That wine has piercing acidity, and a distinct grassy-gooseberry taste that even my sick little system would have been able to taste. Second guy said "Pouilly Fume", a Loire sauvignon blanc that usually has a little oak. Possibly.... Third guy said "Grüner Veltliner", an Austrian grape that I drink quite frequently, with a Pinot grigio-like flavor profile and a gorgeous, slightly oily texture. And the texture of this wine was soft - softer than I would expect for a Sauvignon Blanc, even if it is Pouilly Fume. I couldn't taste anything, so that's what I picked. Wrong. French Sauvignon Blanc. Damn.
The nose of wine two actually did reveal something - maybe a little pear-like, spicy, fragrant. First impression said Alsatian varietal. The choices I got were: One - Loire Chenin - absolutely not. It was too rich and the wrong texture. Choice two - Aussie unwooded Chardonnay... Possibly - the texture was right, and it had the alcoholic warmth I would expect of a new-world wine, and pears are a chardonnay-typical flavor... But that spiciness was out of place. Then number three - South African Chenin Blanc. Well, in all my tasting experience I think I have only had one South African Chenin, and it was so awful, I had wiped the tragic memory away to spare myself the future pain, and yet I think I actually enjoyed this particular wine in front of me. Anyway, new-world Chenins often have a little

residual sugar

, and the tip of my tongue could find none there. Process of elimination - Aussie Chardy.... Wrong! South African Chenin. At 39 dirhams, I might give that a go when I can taste again.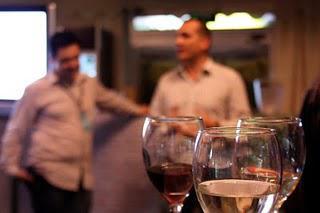 Wine three was red, with light tannins and a little earth. Again, my nose eliminated all fruit aromas, but I could tell the wine was young, light, a little meaty, and lacking in any complexity great enough to wade deep into my sinus. Ok - Choice one - Swiss Pinot Noir. What? Do the Swiss make enough Pinot to export to Dubai? With the pitifully small range of wines we are offered here, would MMI fill a slot with something so obscure? No... Loire Cab Franc maybe? Possibly - the body is right, but the earthiness us wrong.... Third choice?

Beaujolais

- Bingo! And finally I was right. I had to stop myself doing a little Oprah Winfrey dance and chanting "Go Sarah! Go Sarah!"
Abysmal. One out of three. How have I dropped so far?
Luckily, I found non-drinking friends outside. They didn't care that I had lost my wine palate, they didn't even ask. We just threw ourselves into the fray to enjoy the more solid offerings.
They sympathized with my impaired taste-status, and deftly steered me towards PF Chang's Dynamite Prawns. They effectively blew the top off my head, releasing all blocked fluids, so after I was able to enjoy other things like Rivington Grill's crispy-battered fish, and carluccio's cappuccino truffles. Everyone was talking about the beef cheeks at the Wharf, but I was all full up at this stage and after a lovely hot, creamy and spicy chai latte, made my excuses and left.
---------------------------------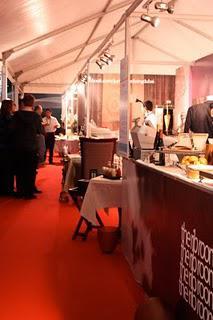 Taste of Dubai is still on for two days - and if you like your food, you really should go. A Standard ticket costs 75 AED, but you will have to buy your food and drink when you get inside (take water - at 20 AED a pop, that's outrageous) Most dishes range between 15 and 30 AED, and I believe are fairly good value. "Who's Wine is it Anyway" was only 10AED. You can buy a VIP ticket instead for 200 AED, and that will give you food and drink vouchers. Tickets at the gate.
Besides the Beverage Theatre you will find the the Philips Chefs Theatre, the Miele Cookery School, and the Piper Unwind Lounge. There is also a stage, which at the time I went was the source of some Elton John covers, which were probably OK, but to be honest - Taste of Dubai, I'm talking to you - Think about what people want when they are sitting down with friends and talking about food - Background Music please! Acoustic sessions, wandering minstrels, bossa nova - anything but "Candle in the Wind" at 1000 decibels. The rest of the Amphitheatre is laid with mini-marquees from all the best restaurants and food brands in town - you can even meet many of the chefs (e.g. Gary Rhodes, Suzanne Husseini) at their respective tents.
Opening Hours: Friday and Saturday 12pm noon – midnight (food & drink served until 11.30pm)
Location: The Amphitheatre, Media City. Click here for more information
PS. Taste Of Dubai provided me and several other bloggers with free tickets. If I had paid for it, I would have said the same.Leave me a comment and make my day...