I've had tacos at quite a few places in Mexico – including some really great ones – but last night I was introduced to a place that outshines them all: Taqueria con Servicio de Bar "La Cabaña". (Yes, that's how the name is printed on the awning, and the only way one can find it listed on the internet.)
Located in the neighborhood called Azcapotzalco, it's not exactly a place the casual tourist in Mexico City is likely to go, and I'd be hard pressed to recommend a special trip there. But damn, these tacos are good. Proof that all you need for great food is good ingredients and careful, competent preparation.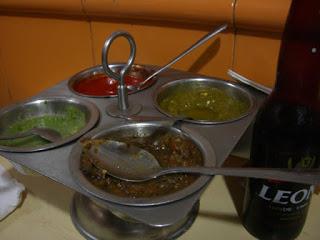 So, a quick slideshow tour showcasing the highlights... first up: longaniza and lengua.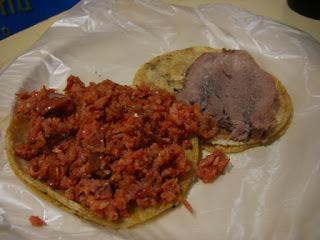 Longaniza is a a type of sausage, crumbled and lightly fried. It was a deeply flavorful, pleasant surprise. Its companion in the photo is beef tongue: tender, moist, perfectly prepared. Both are simply stunning.
The obligatory pastor: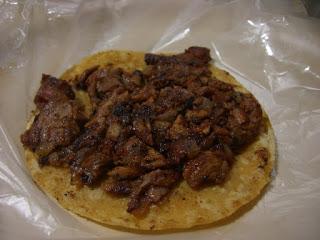 Every taco place in the city serves pastor (except the ones that specialize in other types), and, except for El Hequito, which is in a class by itself, this is surely among the very best. Beautifully marinated, spit-roasted pork with just enough char to make the texture interesting.
Costilla: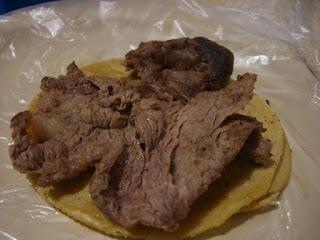 Another outstanding offering – slices of beef short ribs, utterly tender and delicious.
Chuleta con queso: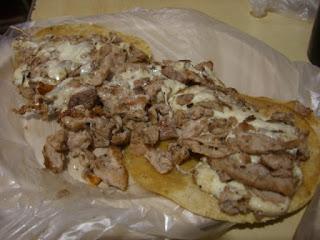 Marinated pork chop meat is lightly grilled, then cheese melted over it. Perfectly tender, and incredibly delicious.
Sesos: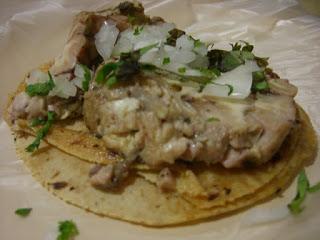 "I can smell your brains."
Considering the widespread fame of tacos de sesos, I felt I needed to try it in a place where it was likely to be excellent. And for brain tacos, it most likely is excellent. But I've never been much of a brains fan (at least when it comes to eating them), and I believe I can now safely cross them off my list of things to order again.
Cecina: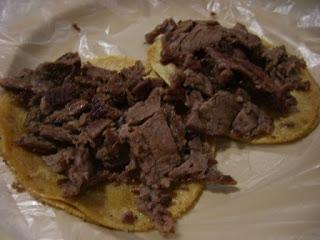 Cecina in Mexico is not the same as cecina in Spain, where it is beef that has been salted and air-dried, producing something akin to a beef equivalent of prosciutto (the deep, almost purple color is quite amazing). In Mexico, it is beef that has been salted and marinated, then cooked. In two nights worth of experience here, I'd have to say it's a bit hit-or-miss. The first night, it was moist, tender perfection... the second night, a tad dry. Still, a taco well worth eating. (The picture is from the second night.)
The prices are quite reasonable, and it's open very late. It's also locally quite popular: at midnight on a Friday night, there was not an empty table in the place.
Taqueria con Servicio de Bar "La Cabaña"
Eje 3 Nte (16 de Septiembre) 36 – Centro de Azcapotzalco, Azcapotzalco
Ciudad de México, Distrito Federal, México
(+52) (55) 1742 1343