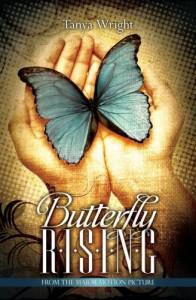 Many know Tanya Wright from her role as Deputy Kenya Jones on True Blood, but what you may not know is that in addition to acting she's also a writer and director. Published last year, Tanya's book "Butterfly Rising" is a poetic inspirational story about friendship and courage. The film of her screenplay, Butterfly Rising, marks her directorial debut. BlogTalkRadio host, Cyrus Webb recently interview Tanya to discuss her acting career, new book, and film.
"The story is about two women who have had enough of their small town life and they've set out on the open road to meet this mythical medicine man named Lazarus of the Butterflies. And it is their hope that their dreams will come true. Ultimately they do, not in the way that they think however. And I think that's true of life and certainly of all of us. We have an idea of how things should be, or how we would like them to be. And when those things happen, they sometimes don't look the way that we think they would, or even should."
When asked by interviewer Cyrus Webb what she hopes the audience takes away with them, Tanya replied:
"Well, the visual metaphor for the book and the movie is the butterfly. The butterfly is the symbol for change. It's the symbol for metamorphosis. It's the symbol for transformation. And it's something that we will not, any of us, escape in this life – change. Good, bad or indifferent. So I hope that people embrace change in their lives. And more easily as a result of this movie."
The world premiere of the film Butterfly Rising will be held May 8th at the Langston Hughes African American Film Festival in Seattle.
The complete interview can be heard Here.  And for more information on the the film, visit Here.
Book Signing:
Fans in New York City had a great opportunity to meet with Wright on April 9, 2011. She was at the Hue-Man Bookstore for a book signing and movie preview for Butterfly Rising.  A friend of skarsgardfans.com was able to attend and take pictures of the event (see below photo). Wright also met with fans in Washington D.C. at Howard University on the 19th for a book signing and discussion.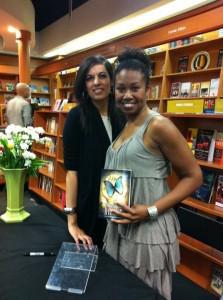 Source: skarsgardfans.com – True Blood's Tanya Wright Talks Butterfly Rising
(Photo Credit: CreateSpace Publishing and N.B.)