When it comes to cooking up traditional dishes I like to play it safe in the kitchen. If I am cooking for guests I always keep telling myself to stop experimenting and follow the recipe to the T. But. I always end up doing the same. Twisting and trying out different variations however being caution of not getting too carried away. This post is one such which has been pending for quite a long time. I made chicken drumsticks more than a month ago and never got down to posting the recipe here. Of all days, today I finally managed to squeeze in time while hubby is away for a Brazil vs Germany match and I sit here craving for a barbeque chicken after finishing off Sidney Sheldon's mind-gripping novel. The moment I spot drumsticks I can only think of barbeques. Some more barbeques! And also the chicken marinated in creamy yoghurt-tandoori masala mixture and letting it rest overnight for flavors to set in. And then torturing my nostrils as enticing aroma from the oven fills up the home while also inviting neighbours for a delightful treat.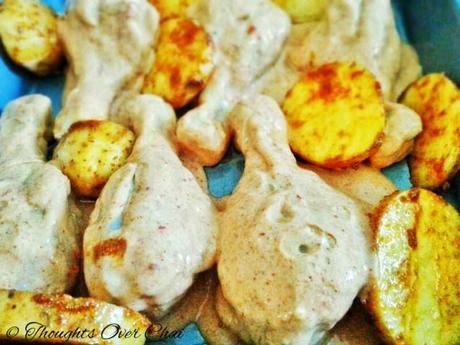 Tandoori chicken has forever-more been important to me because it takes me back in time to relive memories when it was the highlight of every family get together or ordered at every visit to a  dhaba. Served just right – crispy red on the top and juicy tender from inside. The moment I got through Harry's recipe of Tangy Apricot BBQ Chicken, I knew it was time to get the chicken thawed and get going with a delicious feast for the lunch next day. Also some exploring! If I haven't said it yet, the main hero in this recipe is "jam". Yes. My mind got alert the second I read "apricot glaze" and started thinking of ideas I can play with. I loved the idea of incorporating jam in a chicken marinade and what I really think is that a couple of spoonfuls of it brought out flavors just beautifully. As simple as that. I only had pineapple jam available at the time, so used that up for a sweet-tangy taste against other spices. I almost fell for the Mexican kick while the creamy yoghurt and spicy tandoori masala played their roles appropriately, like they always have.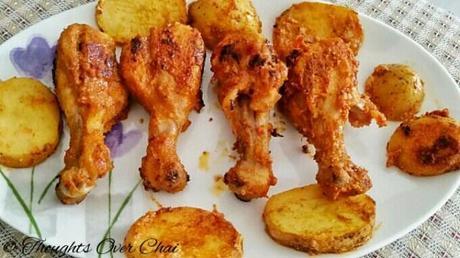 For best results, marinade the chicken in the refrigerator overnight just before you go to sleep. If you are short of time, you can keep the chicken marinated for a couple of hours too. And use hung yoghurt for tandoori chicken, it makes all the difference. Hung yoghurt can be prepared at home by draining all the excess water from yoghurt through a muslin cloth hanging from your kitchen tap, my most preferred place! It takes about 5 hours to make. But all worth it. I have omitted using a  red color which is generally used while cooking tandoori chicken, if you want you can add a drop or two of liquid color to give chicken a nice color.
Tandoori Chicken Drumsticks With A Twist.
<
p style="text-align:justify;">
Tandoori Chicken Drumsticks With A Twist.
Servings: 2
Difficulty: Medium
Ingredients :
6 Chicken Drumsticks
Tandoori Masala - 4 tbsp.
Hung Yoghurt – 1/4 cup
Pineapple Jam – 2 tbsp.
Ginger Garlic Paste – 1 tbsp.
Red Chilli Paste – 1 tbsp.
Chilli Garlic Sauce – 1 tbsp.
Vegetable oil – 2 tbsp
Method – Melt the jam over medium heat in a sauce pan till it is runny and let it cool. Wash the chicken, pat dry and make about 4 incisors on every drumstick. In a big bowl add all the ingredients including jam and chicken but excluding oil. Rub the chicken pieces well in the marinade and let it sit covered in the refrigerator overnight. Remove from the fridge 30 mins prior to cooking time. Preheat the oven and place the marinated drumsticks on a greased baking tray. Pour over the remaining marinade on top of the chicken. Bake the chicken at 180 Degrees Celcius for about 40 minutes or till it is fully cooked and has formed a crispy layer on top. Serve piping hot slightly dabbed with lemon juice!