Bajra Til Tikki was often made by mom during winters . Recently I was in Bombay and mom made these for me. I wanted to share this healthy sweet recipe with you all.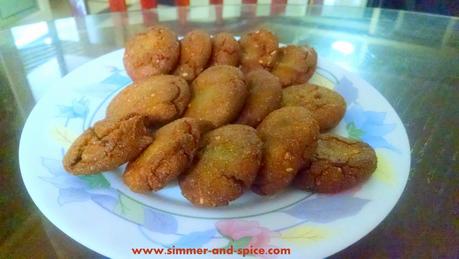 Ingredients:
Bajra flour - 2cups 

Grated Jaggery - 1cup

Sesame seeds - 1tbsp

Oil as required

2 cups water
Method :-

Add grated  jaggery in 2cups of water and let it stay for 10 minutes , once its completely mixed with water . strain it and keep the Jaggery water aside.

In a bowl take Bajra flour , add Jaggery water and sesame seeds .Mix it well . The Consistency of this mixture should be dough like .

Divide the dough into small balls 

and press it into round circles.

Heat oil in a kadai/Wok for deep frying on medium flame.

Fry Bajra balls in kadhai  on a medium flame. Cook till both sides become brownish.

Serve it hot.This can be even stored and it stays fresh for 3 to 4 days.