I think it's safe to say that Adrian Gonzalez has worked out well for the Boston Red Sox.  He may have been able to fly under the radar in San Diego but he certainly is not going to sneak up on any American League team now.
Before the MLB All Star break, Peter Gammons was interviewed and asked "just how much of an impact has Adrian Gonzalez had on the Boston Red Sox?"  He then gave a two part answer.  The first part of his answer was refreshing.  The second was informative.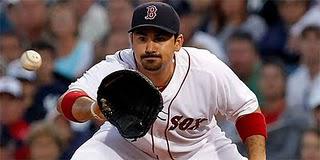 If you focussed just on the value of his hitting,
you'd be missing a lot.
First, Gammons talked about his
defense
.  Having always been a defensive minded guy, I was thrilled to hear that one of the best offensive threats in all of baseball puts so much emphasis on his defense.  Not only has that been a significant improvement for the Red Sox at the first base position but that effort is apparently spreading to other positions.  Other Red Sox players seem to be modeling Gonzalez in terms of their defensive work.  This, of course, is music to my ears since many hitting stars in the last 10-15 years all but ignored their defense.
The second thing Gammons mentioned is very instructive for any player and team.  He said that during games, Gonzalez talks hitting with everyone.  He discusses how he thinks pitchers are pitching him in terms of strategy and gives his thoughts about how the pitcher is going after other guys as well.  Apparently, the chatter in the dugout concerning the opposing pitcher - what he's throwing, how his ball moves, how he works right handed hitters vs left handed hitters, etc. has increased significantly since Gonzalez' arrival.
The importance of this kind of talk during a game cannot be understated.  What does your bench talk about when your team is up to bat?  Is it girls, parties, the beach, a TV show, or a new cell phone that just came out in the stores?  Or does it center around the opposing pitcher?  The pitches he's throwing, what part of the plate he uses most, patterns he and the catcher have fallen into, what sign the catcher uses with a runner on second base, is he tipping off any pitches, etc.  All great information that, if discussed, makes everyone a better, more informed hitter.
I always liked to watch Adrian Gonzalez, but now I'm a fan.