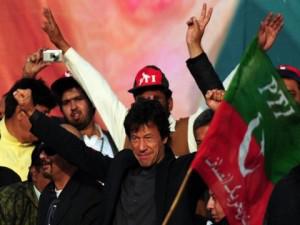 Tehrik-i-Taliban Pakistan (TTP) has denied security assurance for Waziristan peace rally. Earlier it was reported in section of media reporting News updates from Pakistan that TTP has decided to provide security to Imran Khan led Waziristan Peace rally. Imran Khan carries the perception of Pro Taliban the country but Taliban has a different perception of him.
Taliban perceive him as a westernized and secular person which cannot win TTP sympathy.
"Secularists cannot win TTP's sympathies", Ahsanullah Ahsan said
Imran Khan is a cricketer turned politician who is extremely popular in Pakistan. He is an outright critic of drone attacks in Pakistan and has opposed the same at every forum. He announced a peace rally to troubled Waziristan to show solidarity with people of the area. Khan also won Support of different western notables to participate in the procession.
Government of Pakistan has warned him of militant attacks but he is determined to go as planned.  Throughout his cricketing career he has remained man of challenges and nothing has changed in him yet. Expectedly he will be leading a gathering of young Pakistanis full of anti American sentiments. These sentiments are further fuelled by anti Islam film produced on American soils. Most of the participants will have first time glimpse of dangerous border areas of their own country. A
Imran Khan has downplayed the threats and said that he is prepared to die for peace. At the moment it is quite difficult to assess the number of participants of Waziristan Peace rally. But presence of 32 women from code pink and other antiwar groups can prove to be a real incentive for Taliban. They will never get a chance to have a glimpse of American women in their area.
Any attack on Waziristan Peace Rally will not only jeopardize the political aspirations of Mr. Khan but will also justify drone attacks. Waziristan Peace Rally could end up in surge of drone attacks rather than getting rid of it.