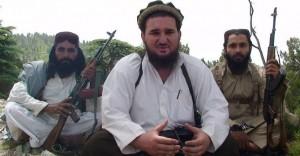 TTP spokesman Ehsanullah Ehsan says Hamid Mir was targeted because he is following a secular agenda
The Tehrik-i-Taliban Pakistan (TTP) has claimed the responsibility for the assassination attempt on the senior Geo TV journalist and anchor Hamid Mir.
Half a kilogram of explosives was found under Mir's car outside near his home in Islamabad on Monday.
TTP spokesman Ehsanullah Ehsan said that Mir was following a secular agenda and was helping those who were working against the principles of Islam.
"Hamid Mir earlier shot into prominence for working in the interest of Islam and Muslims. We targeted him because now he is working against Islam and Muslims," he told AFP by telephone from an unknown location.
"Life and death is in the hands of Allah. Allah saved his life but we will make a similar attempt again."
Ehsanullah Ehsan added that their organization will continue to target those who are following the secular agenda and criticizing Taliban.
"We have advised journalists to be moderate," "If they don't understand our advice, we send our explosives or suicide bombers."
Hamid Mir, 46, was returning home from a nearby market on Monday morning when the driver of his neighbor spotted a suspicious metal bag hanging from beneath the car.  The bomb disposal squad was immediately called who defused the bomb.
The bomb consisted of half a kilogram of locally-made explosives, a battery, ball bearings and a number-35 detonator.
Meanwhile, Interior Minister Rehman Malik has announced Rs 200 million for information on Ehsanullah Ehsan saying he is working for foreign elements and has no link with the Taliban.