Last Updated on by Jeremy
Disclaimer: Living the Dream uses demographic data, email opt-ins, display advertising, and affiliate links to operate this site. Please review our Terms and Conditions for more information. Listed prices and attraction details may have changed since our visit and initial publication.
Imagine you are transported back to the 18th century, colonial Virginia, in the town of Fredericksburg. You have come down with a sickness. What do you do?
If you're like most people, you're going to head to your local apothecary to speak to a doctor and get one of his modern medicines to cure what ails you. This will take you to the Hugh Mercer Apothecary, and your experience could go any manner of direction from there.
Thankfully, we are not alive in the 18th century and do not have to endure what comes next. But at the Hugh Mercer Apothecary Museum in Fredericksburg, you can get a glimpse as to what medicine was like well over 200 years ago to see what may have been your future for curing your ailment.
The Hugh Mercer Apothecary is a Living Museum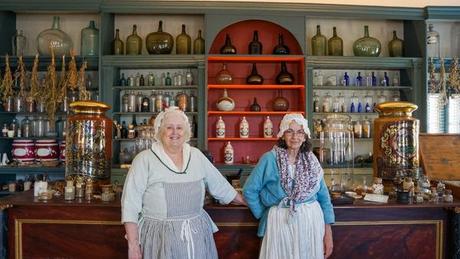 When you arrive at Hugh Mercer's Apothecary in modern days, the period nurses will, sadly, inform you that the doctor is out. Thankfully they are happy to give you a tour while he is away.
The museum tour is broken up into three parts- the apothecary shop, the doctor's office, and the upstairs living quarters.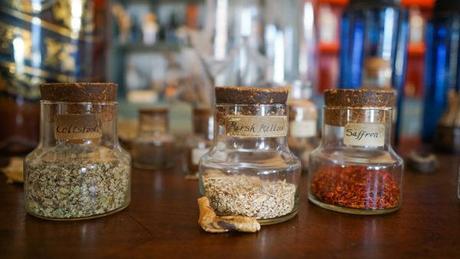 In the apothecary, you are shown all of the medicines and enlightened on the doctor's knowledge around the four humors of medicine- namely black bile, yellow bile, blood, and phlegm. The nurses dive deep into this topic in explaining how root extracts, elixirs, and other medicines made on-site are used for specific ailments (some still used to date), often with the expressed goal of getting you to expel the sickness from one of your orifices. (They take great delight in telling you how fast certain ones work, too. Fun!)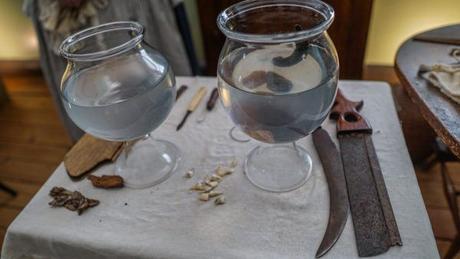 From there you are led into the doctor's office where you'll learn more about the seasonal act of bloodletting, either done with some rather rusty looking knives or via leeches (with live ones on display as examples). The nurses then highlight what would happen if you came in with, say, a broken bone, and will gladly illustrate what steps the doctor takes to rid you of the troublesome appendage.
Suffice it to say, this one is both a bit grotesque and enlightening at the same time.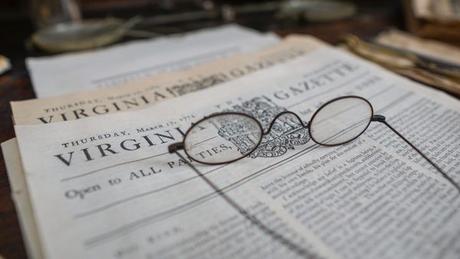 After your tour, you can head upstairs to see the doctor's personal quarters or check out the old-time powder room where men would put their heads through a slot while a slave/attendant would powder their wigs. Can't leave the doctor without looking proper, of course- no one wants to let on that they just had a pint of blood drained!
This all comes together to be one of the most unique tours I've ever been on, and it is all thanks to the "nurses" at the living museum which do a fabulous job on highlighting life (specifically around medical issues) in the late 1800s.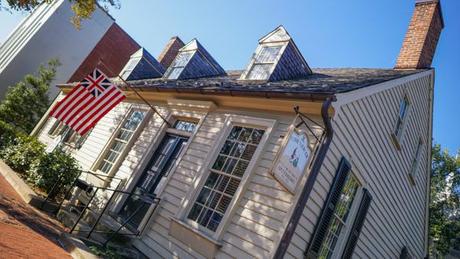 It is unusual, grotesque is probably more appropriate, and not for the faint of heart. But those who visit this museum will be quite educated about a time when medicine was, well, still evolving. I am so thankful to not be living in that era!
Looking to learn more about the progression of medicine over the years? Take a trip north to Frederick, Maryland, to check out the National Museum of Civil War Medicine!
Looking to book your next trip? Check out the following services we use!
The Hugh Mercer Apothecary is located at 1020 Caroline Street in Fredericksburg, VA. It is one of the stops included on the Your Ticket to History pass from the Fredericksburg Visitor Center (available as a 24-hour pass or all-access pass to visit each museum once- a great value for those wanting to hit a lot of local history spots). I was a gust of Fredericksburg for this tour. As always, all opinions are my own.