Once upon a time I would turn my nose up at any commuters on a train tapping away on their laptops. Not only did we have to put up with the annoyance of listening to distorted bass lines seeping out of other people's headphones, but now we also had to endure the stuffy business types taking up more than their fair share of space clicking and tapping on their expensive machines in what seemed like a most infuriating manner.
Not once did I think that in the not too distant future I might be joining them – not once did I think that cheap laptops would soon become available to all!
Not only do I now possess my very own laptop, but I cannot imagine life without it. I love my Laptop for four simple reasons – it is incredibly easy to use, allows me to stay connected with people near and far, provides a wealth of information at my fingertips, and I can take it with me wherever I go.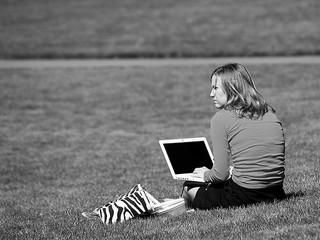 Which Laptop Brand to Choose
I have never been one for buying into brands and labels, preferring to do my own research to find the product that is right for me. My current Laptop is an nSpire 14 2450 from Novatech. It is compact, easy to use and does more than I need, and cost me a fraction of the branded versions with the same spec. In my world of making the most of money, it was a real find.
I believe laptops are great for people of all generations and really can help to bridge the age gap. My mother is a great example of an unflatteringly termed "silver surfer" who has progressed from looking over my shoulder and watching in wonder at the "new fangled technology" to using the internet herself for everything from shopping, finding recipes and health advice, to keeping in touch with friends and family via email, skype, and is even on facebook. Somehow laptops do not pose the same fears to the uninitiated than a standard home computer – perhaps simply because everything is contained in one neat little package?