There's a mysterious site is called Take This Lollipop. After you give the site permission to connect to your Facebook account, it begins playing a video featuring a twitchy man, sweaty, sitting alone in a darkened room, using a computer to nose around Facebook.
Jason Zada, a television and music director who works in Los Angeles and San Francisco, announced Tuesday on Twitter that he was behind the site.
"People keep asking me what sinister plan we're working on behind it," he said. "I just love Halloween, and got the idea about a month ago and decided to shoot it."
In the first 24 hours of the site being open to the public, more than 300,000 people have given it access to their Facebook accounts, Mr. Zada said. He thinks that it is attracting attention because of its novelty, but also because it taps into broader concerns that people have about how their personal information could be misused.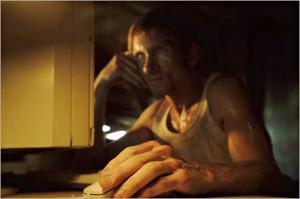 "When you see your personal information in an environment where you normally wouldn't, it creates a strong emotional response," he said. "It's tied into the fears about privacy and personal info that we have now that we live online."
But he promises that the site is intended purely for entertainment, and a fun, seasonal thrill.
"We're not doing anything crazy with the info," he said. "It just makes you feel that way."