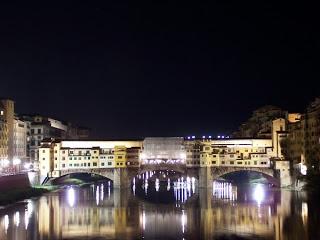 Italy's Tuscan region is a place that simply begs to be explored.  It doesn't matter what sort of traveler you are, you're guaranteed to find something in Tuscany that will simply have you in awe of the world around you. For those who love to indulge in the country's culture, the historic and artistic cities of Florence and Siena can be explored and some of Italy's finest artworks can be enjoyed. For those who wish to visit Italy to sample the culinary excellence, enjoy a fine meal in Lucca and hire a car to explore the famous Chianti vineyards of Italy.
Appetite whetted enough already?  Ours most certainly are, and we're really excited to try out all of these things when we visit Italy over the next few weeks during the second month of our long-term adventure!  (Photo "Bridge at Night" by loperet)
Tuscany sits in Central Italy and extends out along the Western Coast. This is prime location to enjoy the glorious Mediterranean climate, benefiting from temperatures that always provide welcome warmth to the air. Tuscany is famous for its historical sites, its architecture and its food and drink that nowhere in Italy can match. Personally, there's no better way to explore this beautiful part of the world than taking off in a hire car to drive amongst the rolling hills, up through hill top villages and down along a breathtaking coastal road.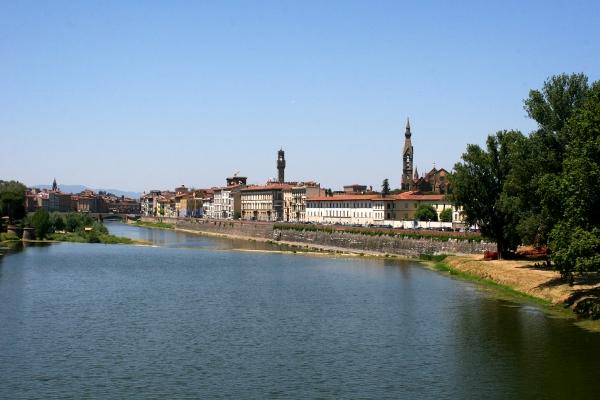 Start in Florence, the region's capital and one of the most visited cities in the world. Florence is a spectacular city, seen as the birthplace of the Renaissance and one which has many great historical and cultural sites to enjoy. Most notable is the iconic Duomo cathedral which seems to dominate the skyline from wherever you stand. There is also the Piazza della Signoria, which is home to the impressive fortress Palazzo Vecchio and a copy of Michelangelo's statue of David. This perfectly whets the appetite to visit the Uffizi Museum. One of the oldest and largest art museums in the world, the Uffizi is home to works from Da Vinci, Caravaggio and Rembrandt. The Piazza is widely known as a great meeting place for both locals and tourists.  (Photo "Arno River Florence" by BeverlyLR)
From Florence, make your way south to Siena. The roads here open up gloriously through rolling hills and spectacular Tuscan scenery that make the car hire suddenly worth every single penny. Take a drive down along the Via Chiantrigana, which will take you between the famous vineyards where Italy's Chianti is produced. This is by far one of the most scenic drives in Italy and easily one of the most enjoyable. Making your way through the Pesa and Elsa Valleys, you'll be treated to small villages and towns and many castles appearing through your windscreen. Of course, you couldn't visit this part of the world without stopping off at one of the vineyards for a tour and sample of their Chianti.
Once in Siena, it's time to sit back and enjoy some fine food to accompany the wine sampled. Siena is also famed for its historic center which is dedicated as a UNESCO site. Here you can visit another of Italy's stunning cathedrals which is an architectural delight both inside and out. Like Florence, there is much centred on the city's main square, including the twice-yearly Palio Horse Race which has been traditionally held in the square since medieval times and is certainly a sight to see.