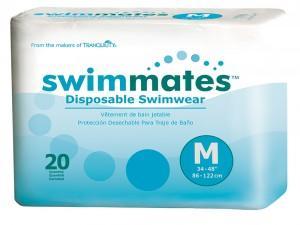 The NEW Swimmates Disposable Adult Swim Diaper is here, just in time for summer! From the makers of Tranquility, this disposable swimwear is designed to contain fecal, or bowel, incontinence. With this swim diaper, there's no need to avoid beach trips or pool parties!
Designed for aqua therapy, water aerobics, or plain pool fun, the Swimmates Diaper is worn underneath a bathing suit and won't swell up or break apart in the water. The incontinence swimwear features the familiar blue moisture-proof barrier and Kufguards leg barriers that can be found in other Tranquility products. Swimmates is a pull-up brief with a full-rise waist panel and stretchy sides that can be ripped open for easy removal and disposal.
With all of the above features, this unisex swim diaper will help incontinence sufferers feel more confident to get back into the water. Try Swimmates for yourself and tell us your opinions by leaving a review!
Swimmates Disposable Swimwear is available in five different sizes, ranging from Small to 2XL. The underwear is made in the USA and sold in packs.