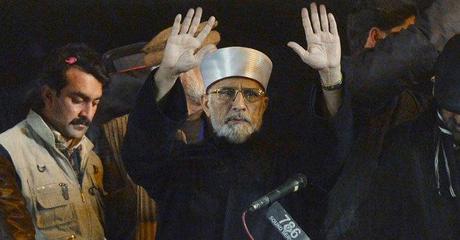 Tahir-ul-Qadri's long march has now turned into a sit-in of thousands of people including elders, women and children right in front of the unapproachable D-Chowk. The Government has installed a long line of huge containers separating them from a large contingent of well-armed police and FC personnel. This is all that stands between the protestors and parliament itself. Dr. Qadri is available in a bullet-proof container; several thousands of his supporters are chanting slogans in his favour. Government ministers and several opposition leaders have accused Qadri of disrupting the upcoming elections. Fact is that Dr.Qadri had never been amongst the ranks of popular politicians in Pakistan, nor his followers had ever been so charged and determined. All what is happening is due to bad governance and corruption of five years PPP regime. The present situation has been caused by injustices rendered by corrupt leaders of PPP and the corrupt system that oppressed the people of Pakistan for five years. It has been caused by disparity between the haves and have-nots. The gap between rich and poor has become so great that the poor can no longer survive under these conditions.
The PPP regime remained completely disconnected from the people. As a result, when Dr Tahir-ul Qadri filled the vacuum of leadership, the ruling class had no choice but to resort to raising slogans of "protecting the democracy and the system". Dr. Tahir-ul Qadri managed to embrace all segments of society.  Addressing the long march he said: There are criminals, looters, rapists and murderers running our Parliament. I think our Parliament has become a problem for us. Our government is so corrupt. The government should listen to us. They need to reform. The days of incapable rulers have been numbered. There can be objection on the language or words used by Dr. Qadri but his contention is absolutely right, supported by public at large. Such a situation could only lead to a popular uprising. Dr. Qadri envisions a popular revolution in Pakistan in which the corrupt leaders will be ousted from power.
Pakistan is today facing economic difficulties, poverty, hunger, lack of energy, unemployment, lack of education and health facilities, and concerns over the equitability of taxation. Masses have been deprived of basic human needs, which commonly include food, water, sanitation, clothing, shelter, health care and education. It is a denial of choices and opportunities, a violation of human dignity. Our rulers forgot that the main cause of the French Revolution was Economics. Pushed into the throes of destitution and poverty, the French people lived under the gloom of indignity – a life of subsistence, of basic survival like in Pakistan today. Hunger and malnutrition has become bitter, omnipresent realities. A poor financial situation and a national debt that has gone out of control, both of which have been caused and aggravated by a grossly discriminatory system of taxation.
For in fact the Pakistanis do not want to live as they had done up to now. They are no longer prepared to accept corruption, police repression, ransom kidnapping, threats and lack of real freedoms, unemployment, acts of terrorism etc. And also, the ruling class can not govern as it had been doing during the last five years. Let's be frank and honest about the achievements of five years of PPP's misrule. The poverty and misery in Pakistan are for sure human created for ulterior motives. The corruption under President Zardari had grown to phenomenal levels while the population faced poverty and hunger. One would never expect that the masses would have sat placidly by and allowed such tiny elite to inflict the conditions of misery on them. For the last five years the rulers have used terror, target killings, beatings, artificial shortage of essential commodities, and other such measures to keep the masses in line. The majority of the people have now refused to be fooled and intimidated any longer; they have refused to stay on their knees; they have recognized the fundamental weakness of their oppressors, they have become transformed from seemingly meek, subdued and helpless sheep into mighty lions as reflected from Dr. Qadri`s sit-in. They have strike, congregated, organized and especially demonstrated from Lahore to Islamabad in increasing numbers, even in the face of massive, gruesome, bloody repression by the rulers, who still have a powerful armed apparatus at their disposal.
It is clearly happening in the absence of a credible political government that can deliver basic services. However, I am not fully convinced that any revolution violating the constitution is the best way to create lasting and favorable change in Pakistan. The anarchy of revolution is often incapable of resolving the major problems in the country.
Without any shadow of doubt; there are many failures of our political class, and the ruling dynastic families. The collective political response that we have seen yesterday has never been seen for the welfare of the people of Pakistan. With politicians of all opposition parties showing solidarity with each other in the name of protecting constitution, parliament and democracy, people of Pakistan are absolutely desperate. They, in their meeting, have not even condemned the ruling Peoples Party who has snatched the last loaf of bread from the masses and burdened the nation with unsustainable heavy debt. It is true that state apparatus has fallen to personalized whims and self-aggrandizement; corruption is rampant; majority of the people are living below the poverty line; terrorism is stalking the entire land; ethnic violence has added a sense of insecurity in the people; and energy crisis has forced industry to close down, which has exacerbating unemployment. The country is bleeding.
Pakistan should wake up dreaming for making Pakistan the leading nation of the world where every Pakistani is richer than every before to afford and own a basic standard of living with access to food, water, shelter, education, communication and entertainment. The people are superior to the governments they form. Since God created people with certain inalienable rights, and they, in turn, created government to help secure and safeguard those rights, it follows that the people are superior to the creature they created. The government should have only limited powers. The people who have created their government can give to that government only such powers as they, themselves, have in the first place. Obviously, they cannot give that which they do not possess. Voter fraud is political poison. It strikes at the heart of government. Every citizen, elected official, and member of the judiciary should preserve the integrity of the vote. Vigorous prosecution of voter fraud should be implemented. Pakistan's Constitution is the foundation on which the entire institutional structure and the associated organizational edifice of the state rest. We should follow constitution.
Strengthening institutions, ensuring the rule of law and working within the defined limits of the Constitution is the right way forward. We are in a difficult time. Every Pakistani should start preparing for a long struggle. We will have to fight for our rights. We can at least start by changing the leadership to people who are sensitive to the suffering of the people and have the honesty and integrity to do what is right. Unless we embrace civil society, due process, accountability and probity in public life, Pakistan has no future.
Dr. Qadri has severally said he didn't want a situation of anarchy or to derail the political process in Pakistan given that the elections are going to be held in March this year? However according to Dr. Qadri Election Commission possessed no powers for amending the law. If the case of rigging is send to ECP, they refer it to the courts and final decision would take five years to decide. He claims there should be reforms in the country and then elections. Apparently most of his demands are genuine. Obviously some are unconstitutional. The general perception of his being close to the army has also proven to be baseless as in spite of last four days events military has taken no action for or against Dr. Qadri. The sit-in of Dr. Qadri has gained strength in numbers and has undoubtedly clouded the political future of Pakistan. The protestors including elderly people, women and children are braving cold weather conditions with unshaken determination for their legitimate rights. During the last two days, in his lengthy speeches Dr. Qadri blasted the ruling elite in federal and provincial governments for their profligacy, loot and plunder, and for having brought the country to the present pass.
Pakistan is currently in a state of chaos following an election with allegations of expected rigging. Meaningful dialogues should be initiated for resolving the issue without losing any moment. The government must announce the election date and the date when the caretaker government is going to take over. It must involve the opposition parties in an intensive dialogue over every issue that concerns democracy and its continuity.