I bet you'll never guess the main ingredients in this recipe… This is super simple, really tasty and ridiculously filling!  Oh and it's really quick too – about 20 minutes from prep to serve! I think it's quite a cheap meal to make too, there really isn't any cons to this that I can think of! This recipe serves two but you'll probably find that you have some left over, so you can have it for lunch the next day! 8-12 rashers streaky bacon   180ml creme fraiche 1 large courgette          250g fresh tagliatelle That's seriously all you need! You can add some parmesan on top if you really want to, but I hate parmesan – it's not allowed within 10 feet of my food. If you're a smart cookieyou'll have realised that pasta is kind of a main ingredient in our meal here… so you're probably going to have to set some water on to boil, aren't you? We all know that a watched pot never boils so dry fry your bacon and chop the ends off your courgette and then grate it whilst the waters doing it's thing, just be careful not to glance at your water too often – it's shy.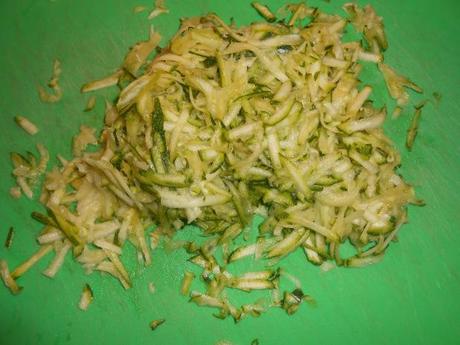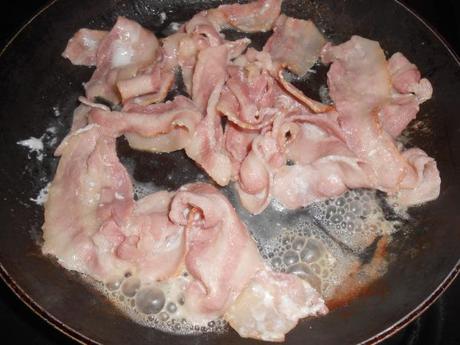 When the bacons nice and crispy take it out the pan, leave it to cool a few minutes and then chop it all up. It's easier to cut streaky bacon when it's cooked, which is why we didn't chop it before hand.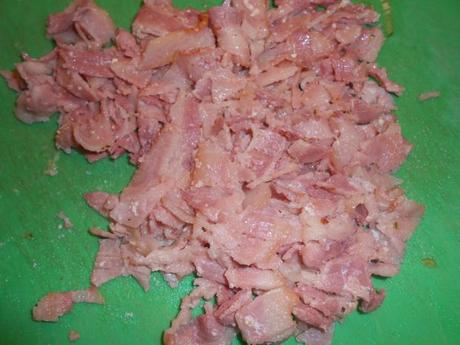 Turn the heat under your frying pan down a little, add the courgette and fry until it starts to wilt a little bit. Then stir in the creme fraiche and let it simmer – it will look quite runny and a bit gross, but it's fine.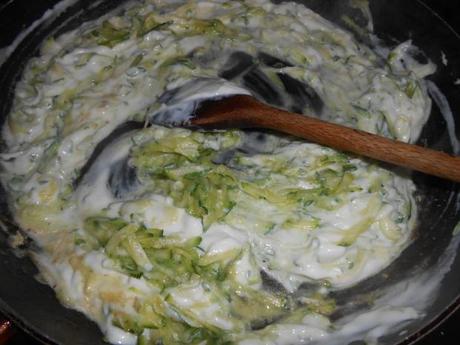 Whilst that's simmering we can add our tagliatelle to our now boiling water. As it's fresh pasta it's only going to take about 3 minutes to cook, and then you want to briskly drain it so it stops cooking. Tip the pasta back into the pan you cooked it in, add the chopped bacon and the courgette/creme fraiche mix and toss it around for a minute – that's it folks!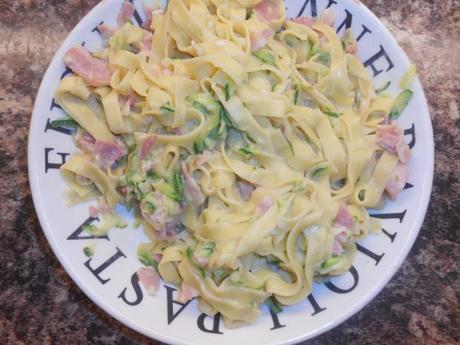 And how yum does that look?! I can't even tell you how good it tastes! Fresh tagliatelle can be found easily in places like Tesco etc. in the UK, but as I've never been to America (DAMMIT) I'm not sure if you guys have this? I guess you must do, because you have everything else (sense the bitterness). But if for some bizarre reason you can't find it I'm sure you can substitute the pasta with dried pasta… I hear that America doesn't do amazing bacon like we do, but I can't help with that I'm afraid. Let me know if you give this a go! It's so YUM! And someone please tell me if the USA has fresh tagliatelle? I might make it my mission to find yummy stuff we have over here that America doesn't!