Summer time, summer time, summer time! If you don't have that Matt Nathanson song on every BBQ playlist in your Spotify account, please go rectify your situation immediately. Then come back for some Tacori engagement rings with enough ice to cool you off.
Tacori engagement rings just scream summer – especially in rose gold and yellow gold. They're perfect for showing off at all of the 8,000 weddings on your iCal this summer. They'll star in all your vacay Insta paps. They'll inspire envy among every woman in the (too) crowded rooftop bars, glittering in the sunset like ice cubes in your Mule Mug. They're the perfect summer accessory, and the best part is, they're for keeps! So you'll get to keep loving them – and your fiance – long after Labor Day. Tacori engagement rings might be perfect for summer love, but they're far from a fling.
So, whether you need something to pair with your cut offs and crochet top or your favorite Lilly Pulitzer sundress, I've got you covered. We're sticking to the warm, summer sunset tones of pink and yellow today, but remember that Tacori is all about options! So if you're just too damn hot and need to cool off with some white metal, everything you see here also comes in white gold and platinum. Now let's dive in.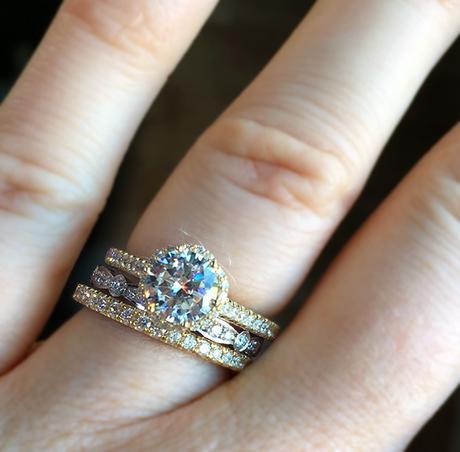 Click here to shop
How gorgeous is this stack?I started with a floral little number from the Tacori Gold collection, and paired it with its twin wedding band (I'll demonstrate what happens when you call it a day there.) But I wanted to see if I could add just a smidge more carat weight here (.43 carats, to be exact), and happily succeeded with the Sculpted Crescent white gold wedding band I sandwiched in to break up all that beautiful yellow gold. You can see more Tacori engagement rings stacked up over on the RLJ blog.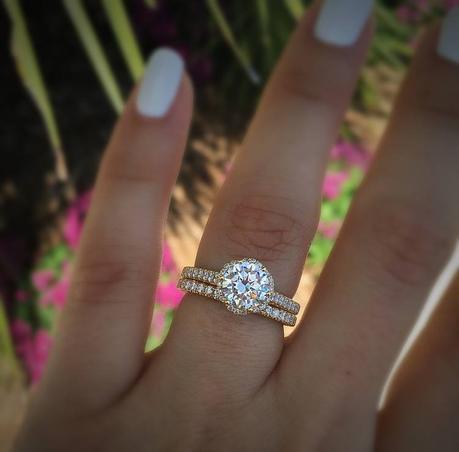 Click here to shop
Here, I linked to the matching wedding band, because the image above links to that beautiful gold Tacori engagement ring. Engagement Ring Gurus proves in this summery shot that the double shot of matching Tacori rings is just as stunning as a triple threat. The cleaner, perfectly matched look is a different style that some brides prefer to mixin' and matchin'. And it's not like this stack wants for diamonds. Between the engagement ring and wedding band you're looking at nearly a carat (.87ctw) of G colored, VS clarity – aka Gorgeous, Very Sexy – diamonds before you even think about your stunning center diamond.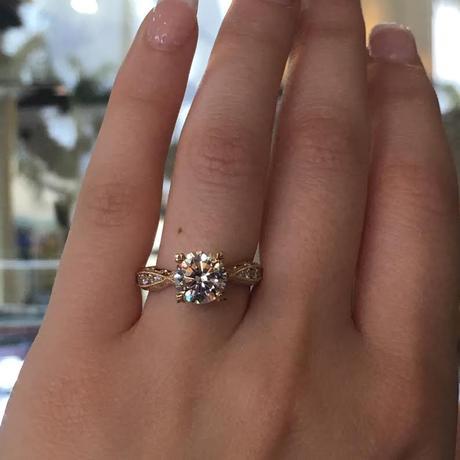 Click here to shop
Here we have a lovely yellow gold solitaire from Tacori Gold – but there's more to it than that. First, we have to visit the Classic Crescent line, where this ring has its origins. This is Tacori's first and signature collection, known for the beautiful windows of light carved into the rings' profile. That setting holds diamonds that start at 1 carat. But because it was so popular, it needed a few more places in other Tacori collections. First, it got upgraded to RoyalT, where the setting was perfectly engineered to suit diamonds larger than 2 carats. And because of the hot demand for different iterations of this style, it also earned a place in the Tacori Gold line (shown above) which gives the most popular Tacori engagement rings the Midas touch. For our summertime showcase, let's focus on the 18 karats shown here with about .42ctw of round brilliant diamonds.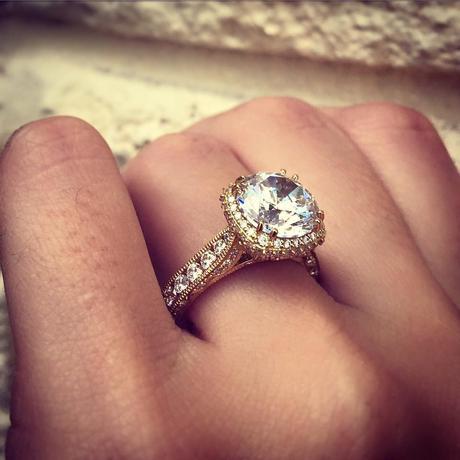 Click here to shop
The same goes for this ring – a beautiful design found in both RoyalT and Tacori Gold, it's a rounded square halo with massive round brilliant accent diamonds adorning its shanks and center, just begging you to set it with the perfect center diamond of your choice!
If these got you craving more Tacori engagement rings, just know that this is but a small serving – the fruit salad before your 4th of July Picnic, if you will – compared to the smorgasbord on my Pinterest boards. Check them out, and get pinning to make your summer romance official.