Just as I was fretting about all the time I haven't been spending in the kitchen, I was hit with- dare we call it?- an idea. Yes, friends, a bit of culinary inspiration!
Nothing crazy… and minimal heating is required. Just fresh herbs, juicy tomatoes, and ripe avocados to celebrate late summer in all its brightness.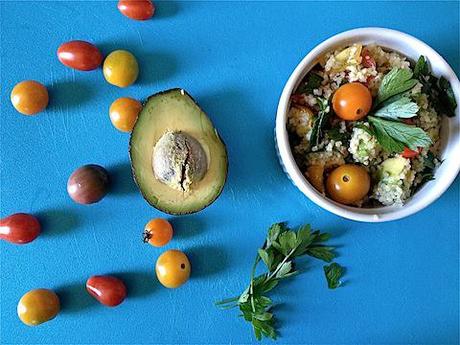 Tabouli (or tabbouleh), is a traditional Middle Eastern dish originally from Syria and Lebanon, but it hit the mainstream years ago and now can be found at grocery stores around the country. Unlike the US, many Middle Eastern salads, like tabouli, highlight grains and herbs rather than leafy greens. Part of what makes this salad so refreshing is that every mouthful brings a zesty bite of parsley, which is rich in Vitamins A and C.
Avocado doesn't normally find its way into many Middle Eastern dishes, but it mixed in so well with the other flavors in this dish that I couldn't help myself. If you're looking for a nutritious, low-maintenence appetizer or light entrée, I've got you covered.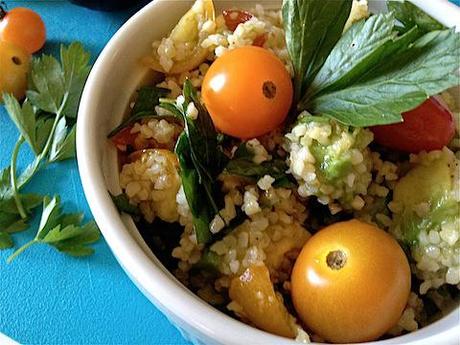 TABOULI WITH HEIRLOOM TOMATOES + AVOCADO
Serves 2-4
Ingredients
1/2 c. bulgur wheat
1/2 c. water
1/2 avocado, diced
1 c. heirloom tomatoes, diced
2 c. flat-leaf parsley, loosely packed, chopped
juice of 1 lemon
1.5 T olive oil
salt + pepper to taste
Bring water and bulgur to a boil, then reduce to a simmer. Cook until water is absorbed and bulgur is tender but chewy, about 5-10 minutes.
Whisk oil, lemon juice, salt and pepper together in a medium-sized bowl. Add avocado, parsley, tomatoes and cooked bulgur; toss until evenly coated.