Ok, so perhaps I didn't necessarily "run in chocolate", but I did combine two profound loves in a very unique and once-in-a-lifetime experience. During the first portion of our trip to Trinidad, we took a domestic flight to the sister island of Tobago. Although only a 20 minute flight (Trinidad is actually closer to Venezuela), the two islands are certainly distinct. After our trip to the beach for an early breakfast (we had a 5:40am flight), one of our first adventures was to the northeastern part of the island to visit the Tobago Cocoa Estate.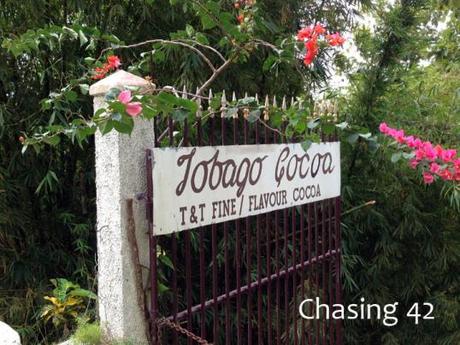 Prior to visiting T & T, I had not idea just how important these islands were to the world's cocoa production. Some of the finest chocolate in the world is produced with cocoa from T & T. Considering my intense love of chocolate, this was clearly a perfect excursion. After traversing the winding and narrow roads over mountains and across the island, we made our way up one final enormous and windy incline to the entrance of the estate. Our tour was scheduled for 11am, and we arrived plenty early. Although I didn't bring my running shoes and I was dressed with comfort in mind, I still couldn't resist the urge to run!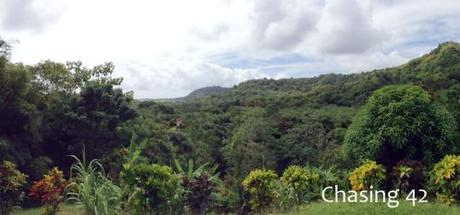 More amazing views!
I had on my Merrell Trail Gloves, sans socks, and I figured I'd give them a whirl. I have purposely never run in them before and have limited myself to everyday use, but I figured that if I was going to ever try running in them, this was the time. I left the beautiful epicurean and our wonderful host, and headed out back down the mountain. The winding path was less a road, and more a trail perfect for running. Luckily, I didn't encounter any cars on the way down because I'm not sure there would have been enough room to get out-of-the-way without hopping into the rainforest.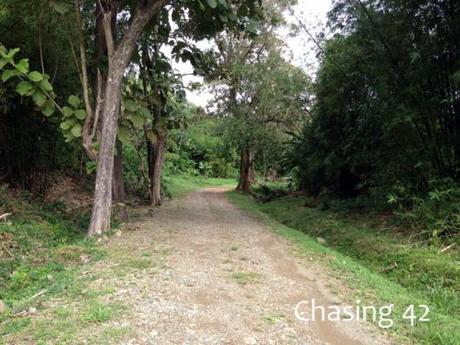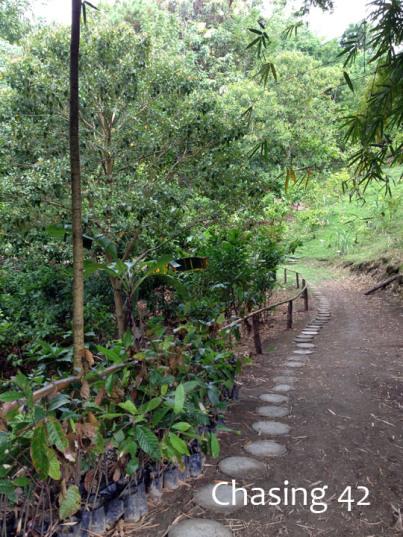 Throughout the run, I couldn't help but think about just how foreign the landscape and the total environment was and I found myself wishing I could just keep running. I was able to explore some of the side roads and a few trails as well, but was careful not to wander too far from the main trail. I don't have the best track record with directions in new locations, and this certainly wasn't the time to get lost!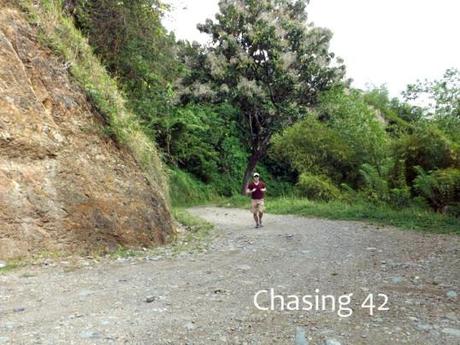 Heading back up!
After I had ventured about as far out as I was comfortable, I turned around and headed back up. Oh right, I ran DOWN a mountain! Needless to say, the journey back up was a tad bit more strenuous, but I loved even minute of it. I returned to the car, thoroughly soaked in sweat, but in enough time to wipe off a bit and venture into the estate for our tour. I learned more about the cocoa plant than I had ever known, and it was absolutely fascinated to see how the chocolate I love so much begins. We were able to taste the fresh cocoa beans, which actually tasted more fruity than anything else. After some intense searching back on Trinidad, we were even able to find some very high-end chocolate made from the cocoa beans at the estate, and it was well worth the search!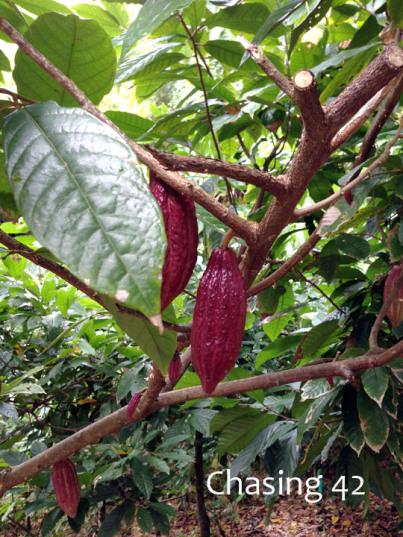 Cocoa pods waiting to be picked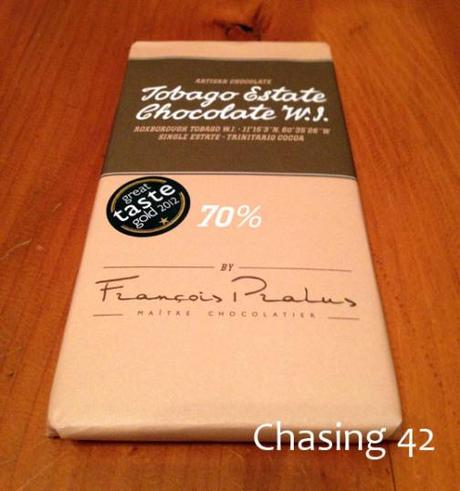 Any day that I can combine my loves of running and chocolate is a magical day, and the fact that it happened on a beautiful Caribbean island was quite the bonus!