Sympathy Definition
Showing sympathy is one of the interpersonal relationship skills that can help you to build interesting human relationships in both personal and professional life situations.
Sympathy Meaning
Sympathy is feeling sorry about the person, situation or the event. You express sympathy in cases of death of a relative, friend, neighbor or pet. Sympathetic tone is as important as the words, phrases, statements of sympathy.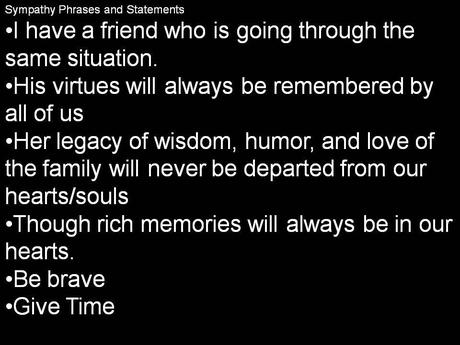 Sympathy Words, Phrases,
Statements, Messages Examples
Sympathy Words

You have to be sensitive in using words while showing sympathy. Use of euphemism is one of the most polite and diplomatic ways. For example, instead of using death or suicide can be replaced with euphemisms like 
passed on, passed away, departed, left his life, deceased, or no longer
. 
List of sympathy phrases:
Be brave
Handle it courageously
Cheer up
Chin up
Give time
I have a friend who is going through the same situation.
Lot many are going through the same situation as yours.
His virtues will always be remembered by all of us
Her legacy of wisdom, humor, and love of the family will never be departed from our hearts/souls
Though rich memories will always be in our hearts.
He/She can never pass away from my heart 
His/Her affection, friendliness and warm heartedness will long be remembered by us
His/her noble thoughts, righteous intentions will be in our remembrance forever.
List of Sympathy Messages
John was such an wonderful person, talented and affectionate, rich memories of his deeds will be in my remembrance forever.
I feel privileged to be his friend. I've learned a lot of life lessons from him. His legacies will never be forgotten.
John is one of my most admiring friends that I have ever had in my life.
Like so many others who were drawn to John by his charm, courage and warmth, I'm one of them who would long be remembered of John.
He is the most special person in my life, and I always enjoyed his company and respected this thoughts so much. His philosophies and teachings will always be our hearts endlessly.
Ms.Anita  will always remain alive in the memories of us, we love him and treasure his deeds as long as we are alive.
Though empathy and compassion is the most admirable behavior in order to build fascinating relationships, You can use words of sympathy during inevitable situations such death of the person or a natural disaster.