We all get a sweet tooth from time to time, especially when we're supposed to not have fatty sweets while on a diet! But you can bake delectable cakes that are under 250 calories. This sweet and diet friendly strawberry jam crumb cake is just that recipe!
This particular recipe has two parts: the crumb topping and the cake itself. The ingredients are split to represent that.
Cake Crumb Topping Ingredients:
1/4 cups all-purpose flour
1/4 cups brown sugar, packed
1/4 teaspoons of ground cinnamon
2 tablespoons butter, cut into small pieces and chilled
Strawberry Cake Ingredients:


1/4 cups all-purpose flour
1/2 teaspoons baking powder
1/4 teaspoons baking soda
1/8 teaspoons salt
2/3 cups powdered sugar
1/4 cup softened butter
1/2 teaspoons vanilla extract
One egg, large
6 tablespoons milk, fat-free
2 tablespoons lemon juice, fresh
1/4 cups strawberry jam or spread, reduced fat
Cooking spray
And here are the instructions to make this yummy dessert.

Combine together 1/4 cup flour and the cinnamon and brown sugar together in a medium mixing bowl. Cut and put in approximately two tablespoons of butter and mix everything together until it starts to resemble a coarse meal and then set aside.

Next, heat up the oven to 350F. Lightly coat a springform pan with cooking spray and set aside for later. Spoon in 1 1/4 cups of flour into measuring cup, knifing off top, and then combine together with baking powder, salt, and baking soda in a mixing bowl and set aside.

Now combine together the sugar and 1/4 cup of butter in a larger mixing bowl. Beat by hand or with a mixer until everything is well blended. Now add in the egg and vanilla extract and mix for another two minutes. Combine the milk and lemon juice and mix.Finally add in half of flour mixture and stir until smoothed out. Add in the rest and stir.

Place about half of the mixture into the pan and then cover with strawberry spread. Spoon in rest of the mixture and sprinkle crumb topping. Bake for 45 minutes.
Summary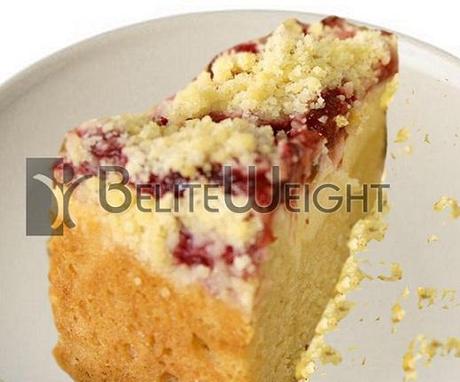 Article Name
Sweet & Under 250 Calories: Strawberry Jam Crumb Cake
Author
Jamie Eberle
Description
Learn sweet and diet friendly strawberry jam crumb cake recipe in our blog . Read here to know more .